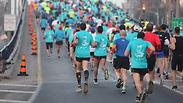 Marathon runners
Photo: Motti Kimchi
The Ethiopian runner Gezu Belete Mekonen won the Tel Aviv Marathon on Friday as he finished the 42 kilometers in two hours, 12 minutes and 12 seconds. Maru Tafari was the first amongst the Israelis to cross the finish line in two hours and 27 minutes. 1,830 participants came from different countries from around the world.
Tel Aviv Marathon (צילום: פיליזר תקשורת)
Overall, about 40,000 runners participated in the Marathon, a sporting event that lifted the spirits of many, but also involved roadblocks across the city and its surroundings, a move that elicited criticism in recent years.
For Eliav Cohen Tzemach, 33, from Petah Tikva, this was the 50th marathon, "I ran my first marathon six years ago," he said.
Roy Tamam, 34, from Jerusalem ran the half marathon in an hour and a half. "Last year I dropped 115 kilograms. I have been training since May, realizing I was good at it and so I joined a running group. It was great. The weather was great."
During the marathon, 17 runners had to be hospitalized: among them, a 45-year-old woman took ill and was in a stable but serious condition, a 16-year-old who suffered heatstroke is in moderate condition, 5 were moderate, and 10 others, were lightly injured.
Against the backdrop of the marathon, the city's residents were forced to maneuver their way through blocked streets until 1:00pm.
Ori, 29, a resident of Tel Aviv, expressed dissatisfaction with the event: "I woke up at 7:00am to loud music… it was like a DJ was sitting right in my house. My dog went crazy."
Regarding the blocked roads she said that "while usually you look for parking for an hour or more, yesterday, I looked everywhere—so I wouldn't get stuck. There's not a moment of silence, everything is blocked, there is no public transport. Really, the municipality has gone too far."
The municipality responded to the complaints: "The marathon is a festive event that draws tens of thousands of participants each year from across the country and from abroad. Events of this type that are held a few times a year may sometimes cause inconvenience for a few hours but it enables tens of thousands to enjoy the magnitude. These are just some the advantages and disadvantages of life in a big, metropolitan city."