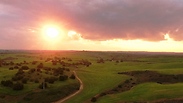 Bitronot Ruhama
Photo: Eli Segal
The West Negev was taken over these past few weeks by a vibrant shade of red, as wild anemones blossom with all their dazzling brightness. This natural celebration is just in time for a manmade one, with the Red South Festival to go on until the end of this week. The festival includes the Anemone Race on Saturday, as well as local food fairs, art galleries, agricultural tours and walking and hiking trips around the region. "The idea is to tell the public, 'Did you come for the anemones? Well, stay for what the area has to offer,'" said the North Negev Tourism Head and festival's producer, Livnat Ginzburg.

Many of the region's natural sites hold their own special sense of wonder. One such site is the Bitronot Ruhama Reserve. Close to Kibbutz Ruhama, the reserve includes seasonal streams created by the water wearing down the loess soil into deep creases. In the winter months, the reserve is covered with a blanket of red anemones—also known as windflowers—in addition to buttercups, irises and ophryses.




Shikmim Ranch is another sweet spot in the West Negev. The sheep ranch belongs to the family of late prime minister Ariel Sharon, whose grave is located atop Anemone Hill, which overlooks the ranch. The hill also holds the remnants of an ancient settlement and a Muslim cemetery dating back to the Seventh Century ACE.

A smaller, yet no less touching site can be found near the entry to Kibbutz Alumim. It is there, in the middle of a forest clearing that the Marva (Hebrew for sage) Well can be found. The well is named after Marva Babian, a resident of Alumim who died in 2014 from cancer.

The Western Negev became a part of the State of Israel due to a clever operation nicknamed 11 Dots. In 1946, immediately following the holiday of Yom Kippur, 11 villages were erected overnight, in an effort to include the entire area within the Jewish state when the time came for its founding. Tkuma, Be'eri, Urim, Nirim and Mishmar Hanegev were among the kibbutzim that were set up on that fateful night, in an area that would indeed be included in the State of Israel.