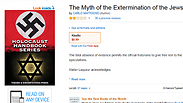 Holocaust denial book on sale on Amazon
Yad Vashem urges Amazon to remove books denying the Holocaust
After learning the online retailer still offers readers anti-Semitic titles, the Holocaust museum sends email to Amazon CEO Jeff Bezos: 'Once again, given the presence of anti-Semitism around the globe, we strongly urge you to remove books that deny, distort and trivialize the Holocaust from your store.'
Yad Vashem has urged Amazon to remove books denying the Holocaust from its site after learning the online retailer continues offering them to readers despite making commitments to remove such titles.

These books are available even in countries that have laws barring the distribution and sale of Nazi propaganda materials.

Upon receiving complaints about the matter, Dr. Robert Rozett, the Director of the Yad Vashem Libraries, sent an urgent email to Amazon CEO Jeff Bezos, requesting that he immediately remove the books from the site.

"It has been clear for many years now that Holocaust denial literature is freely available for purchase over Amazon. Many of the items appear with glowing readers' reviews and recommendations for further reading in the same vein," Dr. Rozett wrote in his email to Bezos, which was obtained by The Jerusalem Post.

The Yad Vashem Holocaust Museum in Jerusalem has made similar appeals to Amazon when the site was first making its name, seemingly to no avail.

"Once again, given the presence of anti-Semitism around the globe, which has become more prevalent in recent years, we strongly urge you to remove books that deny, distort and trivialize the Holocaust from your store," Dr. Rozett wrote.

"Holocaust denial and other forms of hate speech indisputably nurture prejudice and hate crimes," he went on to say. "Open discussion of ideas is certainly essential to pluralistic and democratic systems, but facilitating the spread of such hate-filled ideas is irresponsible, to say the least. As a major agent for the dissemination of ideas, it is incumbent upon Amazon, as it is also incumbent upon internet providers in general, to act to curb the spread of hatred."

Amazon has yet to comment on the matter.