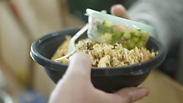 A hot meal with a side salad
Photo: Amnon Hass
Tel Aviv high school joins Jamie Oliver's Food Revolution
Gone are the days of fatty pastries and processed food. As part of a project meant to revolutionize school lunches in Israel, Tichonet High School offers healthy meals to its students for affordable prices. On the menu: beef and beans stew, chili con carne wraps and chicken curry.
Beef and beans stew, meatballs baked in hummus and other dishes that are rather foreign to the common Israeli teenager are what's on offer at the cafeteria of the Tichonet High School in Tel Aviv, which recently joined Chef Jamie Oliver's Food Revolution.

The Cafeteria Project, led by the city's Innovation Team sponsored by Bloomberg Philanthropies, was launched in an effort to lower food costs at schools while at the same time offering healthier food to students.

The project seeks to create a new model for the cafeterias in Tel Aviv's high schools that would allow them to offer students healthy, nutritious and delicious food at affordable prices.

"The Cafeteria Project is probably the most innovative trial ever held in an effort to learn about the different parts of a plan to selling high quality healthy food at affordable prices to school students," said Itai Eiges, the head of the Tel Aviv Innovation Team.

In the coming weeks, the school's cafeteria will try out several different models, making different culinary offers to the 1,000 students.

Three of the models include serving hot meals that are made-to-order and paid for in advance, while the third week of the trial will see a "more free" model in which students can pick from a selection of ready-made hot and cold meals, either large or small, at any time throughout the school day.

The meals, which cost between NIS 2 (for a fruit) to NIS 20 (for a hot meal with a side salad), were cooked up by Chef Itai Farkas, who was selected to represent the Food Revolution in Israel.

"Ahead of the trial, we had to reinvent the wheel and cook up meals that would meet the Education Ministry's regulations, while at the same time are delicious, affordable, and innovative," Chef Farkas said at the beginning of the trial's third week. "This week, we are working based on a model of a whole meal cooked in one pot. The students had a selection of stews that meet all of the ministry's regulations, while still delicious."

At the end of the trial period, a model will be formulated that will be financially feasible and include healthy and nutritious food that tested well with the students.

The project managers have already said that in light of the success of the pilot at Tichonet, they plan on expanding the project to other high schools in Tel Aviv.

The Cafeteria Project already received the blessing of Britain's Embassy in Israel. Deputy British Ambassador Tony Kay even visited Tichonetn during the trial, rolled up his sleeves, and helped Chef Farkas cook the food.

"I'm thrilled to be supporting such an important project to ensure school children in Israel receive proper food at school, continuing the pioneer work that Jamie Oliver started in Britain," Kay said.

"As a father myself to two children who go to school in Israel, I want to be sure my children enjoy delicious, nutritious and healthy meals every day. I cook a lot and my family never eats ready-made food, only fresh food made with local, seasonal ingredients that are cooked right," Kay continued.

"After six months in Israel, I know how fantastic food here is. Healthy can be delicious too. Crunchy can be yummy. I want to support every effort to ensure children here would eat right. I wish this project great success."

Among the meals offered to students as part of the new project are meatballs baked in hummus, red and black beans in tomato sauce, chicken curry with carrots and whole grain rice, wraps with Chili con carne and acorn squash, and beef stew with peppers and beans.

Starting next year, the sale of food full of trans fats and excessive sugar will be barred from schools, including sodas, burekas (filled pastry), melawach and Jachnun (two types of Yemenite pastries), hot dogs and processed meat, schnitzels, chocolate bars, cakes, Croissant, Rugelach and other sweet pastries, and candy.

The children, meanwhile, were impressed with the new offering.

"I didn't expect too much. I expected to have a few places to sit, a sandwich, maybe a cheese toast. But this is something completely different, there's delicious food. Food I'd have at home for lunch," said 11th grader Sean.

"It was really delicious, I had hummus meatballs," said 10th grader Yuli. "Most cafeterias have avocado or egg sandwiches. Here there are meals like veggie lasagna, it's better than what I have at home. We sometimes eat nearby at the college or in other places. The food there is not healthy, it's mostly cheese toasts and burkeas. Here, the food feels healthy but it's also delicious."

Jamie Oliver, the "Naked Chef," is internationally known for using fresh, organic ingredients in the food he cooks. He has been leading a years-long effort to change the eating habits of school children in Britain and elsewhere in the world, dubbed the Food Revolution.