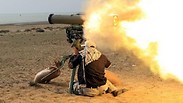 Launching the Iranian cruise missile
The Iranian Navy test-launched an anti-ship cruise missile on Monday morning as part of a large-scale naval exercise near the strategic Strait of Hormuz.

Video of the launch shows the missile—the Iranian-made Nasir, which is equipped with a guidance system—successfully hitting its target.

When the naval drills began on Sunday, the Iranian Navy commander, Rear Admiral Habibollah Sayyari, said the exercise will cover an area of 2 million square kilometers, including the Persian Gulf, the Strait of Hurmuz, the Gulf of Oman, the Arabian Sea and the Indian Ocean.

Iranian news agency Mehr reported that submarines and naval helicopter carriers were stationed at predetermined locations to create a "strategic defense flotilla" meant to drill protecting Iran's territorial waters.

Helicopters and drones are also taking part in the naval exercise, while special commando units of the Iranian Navy carried out training in the Mokran coast in the southeastern part of the country, off the coast of Oman.