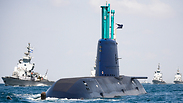 Navy submarine
Photo: IDF Spokesperson
Israel to investigate contract in submarines affair
Ministry of Justice and Attorney General order a criminal investigation over the procurement dealings in the submarine affair 'in light of evidence which raised a reasonable suspicion'; The statement emphasizes that 'according to the findings so far, the Prime Minister is not a suspect.'
Israel's Attorney General has ordered an investigation into the purchase of German submarines months after it emerged that Prime Minister Benjamin Netanyahu's attorney represented the German firm involved in the $1.5 billion deal.

The Justice Ministry said Monday the decision was made after evidence pointed to "reasonable suspicion" of individuals involved in the case.

In December, Israeli lawyers had planned to petition the Supreme Court to intervene over the awarding of a defense contract to Germany's ThyssenKrupp, amid allegations of a conflict of interest involving Prime Minister Netanyahu's own lawyer.

The deal has come under public scrutiny since it emerged that the lawyer, David Shimron, who is also his cousin, also represents the local agent of ThyssenKrupp.

Both Netanyahu and Shimron have denied any impropriety. ThyssenKrupp Marine Systems said it has no contractual connection with the lawyer.

"The decision to move ... to a criminal probe in the 'ships affair' was taken following information gathered by police in the past few months and the evidence that has raised reasonable suspicions against some of those involved," part of the Justice Ministry statement said.

Suspicions of impropriety were heightened when former defense minister Moshe Ya'alon said he was sidelined on the purchase plans—which went forward after he was replaced last year.

Police have been questioning Netanyahu for several weeks over separate corruption allegations the prime minister has dismissed as "baseless."

The Prime Minister's Office issued a response to the case a month ago detailing the purchasing schedule, stating that "contrary to the claims made, the procurement of the four ships was made in accordance with the recommendations of the Navy and the Ministry of Defense itself. The prime minister and the cabinet follow the recommendations of the professional ranks."

After news of the investigation broke, Shimron said he welcomed the inquiry and that its findings would clear him of all wrongdoing and that he would cooperate with investigators.

"I am absolutely certain ... that objective, expert officials will find, once and for all, that my actions were faultless and that I acted according to the law and in line with conflict-of-interest arrangements," Shimron said.