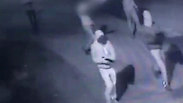 Security footage showing a gang of young people walking through the village of Jisr az-Zarqa indiscriminately shooting depicts a scene residents say is all too common.

Over the course of four days, several instances of violence rocked the community on the northern Mediterranean shore.

Random shooting incident in Jisr az-Zarqa (מאת - חסן שעלאן)

Last Thursday, Jabri Amash, 17, was stabbed to death during the course of an argument with his neighbor. Saturday, an 18-year-old was shot and transported to the hospital, prompting a group of youths to enter into the same neighborhood and shoot in the air, striking a 14-year-old boy with a stray bullet.

Ahmed, a resident of the village, said, "Our situation is very serious. Every day we have gunfire and people being wounded. Many of those shooting are young and are doing right as children are playing nearby. If the children wouldn't run away, one of them could be hit. It could end in a tragedy."

Many residents spoke of rampant crime, random acts of violence and little to no law enforcement.

Sami Ali, a member of the regional council, said, "We live here in acute density side by side with police incompetence and a policy of discrimination and deprivation. This causes a feeling of fear, anxiety and a lack of sense of security. People are afraid of being hit with a stray bullet, even if they have nothing to do with any problems or violence. Our environment is rife with shooting and vehicular arson. We demand to be put on the agenda of the High Follow-Up Committee for Arab Citizens of Israel."