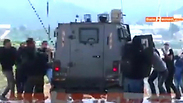 The attack on the Border Patrol jeep in Nabi Saleh
Minister of Defense Avigdor Lieberman asserted on Monday that extending Israeli sovereignty over the West Bank would be a mistake and lead to a diplomatic crisis with the United States and the Trump administration.

"I am saying it as clearly as possible: We received a direct message from the United States saying that Israeli sovereignty over the West Bank will lead to a crisis with the new administration," Lieberman said while appearing before the Knesset's Foreign Affairs and Defense Committee.

Lieberman delved into the logistics and political significance of such a decision, saying, "The decision to extend Israeli sovereignty over the West Bank means extending sovereignty over 2.7 million Palestinians, and I'm not even talking about international law and the international political repercussions.

"I am talking about Israeli law which stipulates that they would have to receive Israeli residency, like Palestinians in east Jerusalem. This means that Israel will have to pay them a minimum of NIS 20 billion in social security on the first day."

In addition to the economic and security challenges posed by sovereignty in the West Bank, Lieberman also referred to the Gaza Strip, saying, "Once again we have found ourselves in an agonizing state of self-flagellation while facing a humanitarian crisis in Gaza.

"I want to emphasize: In 2016, close to 18,000 Gazans received medical treatment in Israel. An average of 800 trucks a day enter through the Kerem Shalom Border Crossing in addition to reconstruction in the strip. Additionally, Israel has evacuated settlements and transferred thousands of Jews to Israeli territory and we have returned to the 1967 lines.

"It is unacceptable that while Hamas spends millions of dollars building offensive tunnels and producing rockets, Israel pays for their water and electricity. We need to separate from the Palestinians, not absorb Palestinians into us."

In discussing security in the West Bank, Lieberman also referred to the incident Friday in which Palestinians attacked and stoned a Border Police jeep in Nabi Saleh.

Palestinians attack Border Police jeep

The defense minister flatly admonished the patrol and their actions, saying, "The officers did not act properly. The procedures for opening fire are very clear and I would have expected the officers to act accordingly. I shared this with the chief of staff as well. First, they should have fired warning shots into the air, then at the legs (of the assailants).

"That these masked assailants got away unscathed is unacceptable. We cannot see pictures such as these again. I hope that message has been made clear to commanders and soldiers in the field as well."