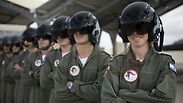 Female Air Force pilots (archives)
Photo: IDF Spokesperson's Unit
To succeed (and) to remain a woman
Op-ed: The picture of an IAF pilot breastfeeding her son, which touched hearts around the world, is a testament to the complex world of a pioneering woman in a closed men's club. In a special op-ed in honor of International Women's Day, she explains how accepting her femininity made her a better pilot.
What makes me worthy of writing a personal column in honor of International Women's Day? Because I "succeeded" in a man's world. Because I am an example that everything is a matter of will and ability, that whoever wants to succeed can succeed regardless of their gender. But I wonder: Is that really so?

I am N., a 34-year-old veterinary medicine student. I am married and have a two-year-old boy.

I am also an Israel Air Force helicopter pilot on reserve duty. I was the first woman to complete a pilots' course on military helicopters 13 years ago. The first woman who was had to "infiltrate," all on her own, into an combat helicopter squadron, which is a closed and consolidated male society. For years, I denied to myself the fact that I was a woman. I spoke and acted like the men around me.

I avoided any type of contact with women, and even looked at other girls who served beside me in "feminine" roles (an operations clerk, for example) with a certain arrogance, while keeping my distance so that there will be no confusion between us.

I firmly rejected any attempt by the system to present me as a pioneer and wave the integration flag over my head, just like I rejected attempts by women outside the system to turn me into the messenger of womanhood. In retrospect, I understand that I did it to try to blur any difference between my fellow pilots and myself.

I wanted to be like everyone else, to assimilate.

I didn't realize that no matter how hard I try, I won't be like everyone else.

Most importantly, I didn't understand that it's okay not to be like the men, and that it doesn't attest to my abilities, to my success and to my abilities as a pilot.

My pregnancy and the birth of my son brought much closer to the femininity I had abandoned at the age of 16, but also put my commanders and the entire system to the test as to my place as a woman pilot in the Air Force, mainly in light of the deep-rooted perception of what an Air Force fighter or commander is.

Today, my acceptance that I am different, that I am feminine, allows me to express qualities that were deeply hidden inside of me, qualities that are considered inferior in a machoistic male world, but that make me a more complete person and therefore a better pilot as well. This understanding also allows me to keep the space around me cleaner, safer and more enabling.

My service in the Air Force is filled with meaningful work, deep friendships, renewed challenges, successes and failures, satisfaction and frustration, supportive commanders and less supportive commanders—and all that regardless of me being a woman. But it also includes difficulties and constraints as a result of the fact that I am a first, and only, woman in a male system.

A lot of progress has been made in the struggle for equal opportunities, and today more and more options are open to women. Nevertheless, these are equal opportunities in a man's world, with a male set of rules and male values. Success is still measured according to the male standards. A woman who wants to succeed has to adapt to the system, and not the other way around.

When we stop counting the number of female pilots on International Women's Day (and when more than one woman completes the course), we will know that something has changed.

I am sure that for the women who followed in my footsteps, the road is slightly easier and the commanders are slightly more aware of how to deal with the demands posed by the new reality. And every woman who challenges the system creates the anticipated change herself, so we are on the right direction, but there is still a long way to go.

The most important thing is to remember that each one of us women who follows her heart and doesn't give up on her dreams when someone tells her that she can't, is a pioneer.