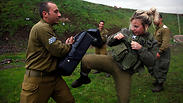 Dripping wet and exasperated in the pouring rain, the soldier turned to the man with the plastic knife that unsuccessfully tried to stab her and offered changing sides.

The soldiers—serving in the "Haraam" artillery battalion, the Israel Defense Forces' longest-running mixed-gender combat battalion—were facing off as part of a training session in Krav Maga, an Israeli military martial art.

Women in the IDF (צילום: רויטרס)

A woman, physical education officer Lotem Stapleton, oversaw the drill at an army base in the Israeli Golan Heights.

She led the pack of 13 soldiers as they ran to warm up, and then joined the chorus of encouragement as the soldiers confronted a stream of "enemy combatants" in the training circuit.

As the world marks International Women's Day, whose theme this year focuses on "women in the changing world of work", the IDF says it is ahead of the curve in providing combat roles for female soldiers.

Eighty-five percent of positions in the IDF are open to women, and the soldiers of the "Haraam" battalion—which began accepting women in 2000—offer a window into the evolving gender politics of a military that prides itself as socially progressive.

The army's equal opportunities for women, said Lieutenant-Colonel Oshrat Bachar, an adviser to the office of the chief of staff on gender issues, is not only an issue of good will, but also of the military's real needs.

"Of course it's also equal opportunities but first of all, it's the mission and it comes in order that the army will be much more effective," she told Reuters in her office in Tel Aviv.

"We can see it in ranks that women are achieving higher positions, we can see it in opening more combat units for women and I think that as the years pass, we will see much more equal opportunities for women," she said.

According to Bachar, seven percent of the women serving in the IDFare combatants and seven percent of all combat soldiers are women.

Lotem Stapleton, a Physical Education Officer for combat soldiers, told Reuters that she feels that the army is heading towards a better future in terms of women's equal opportunities.

"We are also talking about opening more and more positions. The army is going towards something very good, in my opinion," she said during a Krav Maga training session.

Matan Paull, a commanding officer in the battalion, said female combatants are generally more creative and mentally flexible than their male counterparts.

"It is not unusual for any of us to receive instructions from a woman or an officer and nobody feels that it is not as good as a man," he said.

Mai Ofir, another female member of the unit, said that male soldiers have sometimes "felt we were taking the reins," but that after serving three years together, they learn to appreciate their female comrades.

"They learn our uniqueness and learn that we are as good as they are, if not better," she said.