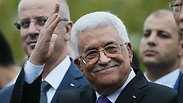 As Fatah hardens, Hamas becomes more receptive
Analysis: Thought it isn't clear who will replace Palestinian President Mahmoud Abbas, his heir will likely be less agreeable to Israel. But as Mahmoud Al-Aloul, Abbas's only current deputy, accepts a one-state solution but only 'under our conditions,' Hamas begins to warm up to a Palestinian state within the '67 borders.
These days, it is impossible for anyone to unequivocally state who the next Palestinian president will be following 82-year-old Mahmoud Abbas. Not among western intelligence, and not behind the closed doors in Ramallah. Abbas himself cannot answer this question. There are plenty of candidates, and also quite a few positions that will need filling, as Abbas is simultaneously the Palestinian president, leader of the Palestinian Liberation Authority (PLO) and the political party Fatah. It would not be far-fetched to assume that all three focal points will not remain in the hands of one person after after Abbas's time is over.

Taking a stand against Israel, while accepting a one-state solution

Last month, Mahmoud Al-Aloul was elected as Abbas's deputy within the Fatah. Though this does not necessarily mark him as the heir apparent, at present he is the only designated deputy that Abbas has in any of his three roles.



Al-Aloul laid down his hawkish political stance several days ago in an interview to a major Arab newspaper. The interview emphasized a truth that many in Israel continue to ignore; namely, that any successor to Abbas will take up a far less convenient position where Israel is concerned, and might destabilize the region as a result.

When it comes to Israeli-Palestinian relations, the security coordination between Israel and the Palestinian Authority is sacrosanct. In this matter, Al-Aloul seems to have adopted a "shoot, don't talk" attitude akin to that of Israeli Defense Minister Avigdor Lieberman's (Yisrael Beytenu). As such, Al-Aloul expressed contempt for the empty threats his compatriots have voiced regarding ending this cooperation. "People have already made threats but then balked at carrying them out. I say that in the end, we have no choice but to reevaluate all the components in the connection with Israel." Abbas, it should be mentioned, has continually called the Israel-Palestinian security coordination "sacred," something that Al-Aloul is more than aware of.

In keeping with his support of concrete moves as opposed to statements, Al-Aloul has made it clear that he is in favor of a people's revolt against Israel, hinting that a more severe grassroots resistance is in order. "I oppose dismantling the Palestinian Authority, but I'm for navigating the authority toward deepening the resistance against Israel. The authority won't be dismantled. It might collapse under the siege, due to the blocking of funds or another reason. But our mission is to deepen the rebellion."

And yet, Al-Aloul's would-be call to action does not signal an all-or-nothing approach. He has, for example, gone on record as accepting a hypothetical one-state solution, so long as it adheres to conditions laid down by the Palestinians. "This one state we are talking about is a democratic state where everyone lives with equal rights," said Al-Aloul. "We'll accept it under our conditions, no problem."
A softer side of Hamas
As Fatah's leadership offers a stronger stance in the Israeli-Palestinian conflict, Hamas has been working on a new plan, following the primaries within the terrorist group-turned-political party. The plan is to provide Hamas with its fundamental guidelines and is due to be made public somewhere between the end of March and beginning of April. Meanwhile, parts of the plan leaked to Arab media paint a more conciliatory tone toward Israel.

Top Palestinian official Ahmed Yousef stated that party's plan will include the Hamas agreeing to found a Palestinian state within the 1967 borders, with Jerusalem as its capital, without recognizing Israel, without giving up on land the party considers to be part of historical Palestine—meaning, Israel at large—and without Hamas giving up on the Palestinian Right of Return.

On the other hand, the party's new plan will stress that the Palestinian people's conflict is only with Zionism and the occupation, and not with Jews around the world. Yousef further stated that Hamas will encourage reaching out to international forums that support Palestinians. Finally, Yousef mentioned that Hamas now finds it necessary to disconnect from its affiliation to global Muslim movements. One such movement is the Muslim Brotherhood.

But while this all seems to be a relatively positive step toward some sort of reconciliation, it would behoove all those involved to remember that at its core, Hamas is an opportunistic organization. Shaking off the Muslim Brotherhood would mainly be a way to ingratiate itself to Egyptian President Abdel Fattah al-Sisi, in light of the improving bond between Gaza and Cairo, the all-out humanitarian crisis in Gaza and Hamas's desperate need to ease restrictions along its border with Sinai. Hamas would never be putting out such a statement if deposed Egyptian president Mohammad Morsi, of the Muslim Brotherhood, would still be in power. Additionally, the organization understands that it is to its own benefit to make itself more appealing to the West.

It should also be stated that this isn't the first time Hamas has mentioned adhering to the '67 borders. In 2014, top Hamas official Naif Rajoub told Yedioth Ahronoth that Hamas would accept such an agreement as long as the majority of Palestinians would accept it, and as long as it would not recognize Israel. In addition, Hamas leader Khaled Mashal has previously mentioned that Hamas's fight is not against the Jews but against the Israeli occupation.