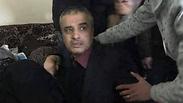 Ahmad Daqamseh, who murdered seven Israeli girls in a massacre at the Island of Peace border post in Naharayim in 1997, was released from Jordanian prison early Sunday after having served a 20-year sentence.

On March 13, 1997, Daqamseh—who at the time was a 26-year-old soldier in the Jordanian army—opened fire at a group of 7th and 8th grade schoolgirls the AMIT Fuerst School in Beit Shemesh, who were on a class field trip.

Seven girls were murdered in the attack: Sivan Fatihi, 13, of Tzelafon; Karen Cohen, 14, of Beit Shemesh; Ya'ala Me'iri, 13, of Beit Shemesh; Shiri Badayev, 14, of Beit Shemesh; Natali Alkalai, 13, of Beit Shemesh; Adi Malka, 13, of Beit Shemesh; Nirit Cohen, 13, of Beit Shemesh. Six others girls were wounded in the attack.

A Jordanian court later deemed Daqamseh mentally unstable and sentenced him to life in prison, rather than imposing the death penalty.

The shooting came three years after Israel and Jordan signed a peace treaty. The two countries cooperate closely on security matters, including in the battle against Islamic extremism, but the peace treaty remains widely unpopular in Jordan where many residents have Palestinian roots.

Recently, Jordanian government spokesman Mohammad Al Momani confirmed that Daqamseh will be released when he is done serving his sentence. Monday will mark exactly 20 years since the mass murder.

Daqamseh arrived before dawn Sunday in his home village of Ibdir in northern Jordan. Amateur video posted online showed him being surrounded by singing and dancing men, some kissing him on the cheek.

Celebrations at the terrorist's hometown

"My father was released and he is now with us," Daqamseh's son, Sif, told the Jordanian site.

His wife declared that "my happiness is unlike any other happiness" at her husband's release.

"I went into jail as a soldier in the armed forces and now I consider myself and my sons as soldiers in the armed forces," Daqamseh himself said.

"I've waited 20 years to the moment of release so I could hug my mother, my children, my wife and my clansmen," a relative quoted Daqamseh as saying.

The relative told Jordanian newspaper Al Ghad that Daqamseh's health was good and that he will greet well-wishers later on Sunday, following afternoon prayers.

An inside source told a Jordanian news site that Daqamseh was released late at night to prevent such scenes of celebrations, to no avail.

In recent years, calls for Daqamseh's early release arose several times in Jordan. In the lower house of the Jordanian Parliament, MPs collected signatures for a petition urging King Abdullah to grant the murderer pardon. Despite this, Jordanian authorities insisted he must finish serving his sentence.

There was no immediate Israeli government reaction Sunday. In 2011, Israel had summoned Jordan's ambassador to express anger after the kingdom's then-justice minister called for Daqamseh's early release.

Yisrael Fatihi, whose daughter Sivan had been killed in the attack, told Israel Radio on Sunday that he had been informed by the Israeli embassy in Jordan last week that Daqamseh's release was imminent.

"It is unfortunate, but this is the situation," Fatihi said.

King Hussein, Jordan's ruler in 1997, paid a rare visit to Israel to express his condolences to the girls' parents.

Fatihi recalled Hussein's condolence visit, saying he and his family had been sitting on the floor in mourning at the time and that the monarch knelt down next to them. "We told him we really appreciated his visit," Fatihi said.

Reuters and AP contributed to this story.