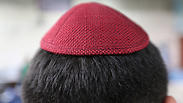 One of the Gaza-made kippot
Gaza tailor makes prayer caps for Jewish worshippers
Ever since Israel began to once again import clothing from Gaza in 2015, Palestinian tailors have returned to manufacturing and selling merchandise to Israelis; Catering to Jewish demand for kippot and Christian priest demand for religious skull caps, one Gaza tailor says that when it comes to providing the goods, religion is not a factor.
It's not easy doing business from Gaza, but tailor Mohammad Abu Shanab has found a demand he can supply—his sewing factory is churning out religious kippot (also known as skull caps or yarmulkes) for devout Jewish men.

Since Israel resumed importing clothing from Gaza in 2015, Abu Shanab has renewed commercial contacts to sell merchandise to neighboring Israel. With salaries in Gaza much lower, Abu Shanab's costs are very competitive.




"We make all kinds of clothes and recently began making the skull caps worn by Israeli rabbis and Christian priests," said Abu Shanab, adding that as far as Gazans were concerned, religion was not an obstacle.

"In the foundation of our religion, we believe in Christianity and Judaism, we believe in the prophets Musa (Moses) and Issa (Jesus), so we have no problem making headwear even if they are for Jews or Christians."

Abu Shanab, 61, added a new production line to cater to the increased demand, even as the pace remains slow and exporting goods from the blockaded territory is rife with bureaucracy.

Israel imposes strict export procedures that greatly increase transport costs. Every shipment, no matter how small, must be sent separately.

So far, Abu Shanab has sent 400 skull caps, and 1,000 bow ties to his Israeli client.

Gaza factories also make goods according to design specifications of Israeli companies who send them the fabric.

Abu Shanab said he is also in talks with an Israeli buyer to produce the long coats worn by ultra-Orthodox Jews.

Before Hamas seized control of Gaza in 2007 after defeating forces loyal to the Fatah party of Palestinian Authority President Mahmoud Abbas, the territory's sewing sector was one the largest employers with over 900 factories employing around 40,000 people.

But in the past decade, Israel and Egypt have imposed a blockade on Gaza and its two million people. According to the United Nations, unemployment stands at 43 percent and 80 percent of the population is dependent on aid, .

"Before (2007) I used to employ 70 workers, but later I could keep only 10 to 15 of them," said Hassan Shehada, another factory owner.

"Today I have 50 workers and I can increase that to 100," he said.

But there is still some way to go. Shehada said Israeli clients are afraid to trade with Gaza out of fear that another violent flare-up would force crossings to close and lead to financial losses.