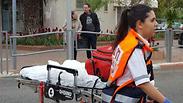 Nurse burned to death by disgruntled patient
Police arrest a 78-year-old man suspected of entering an HMO in Holon and pouring an accelerant over a nurse before setting her on fire; Three others treated for smoke inhalation; empty 1-litre bottle and a lighter discovered at the scene; 'I heard screaming. When I approached, I saw the woman burning, surrounded by people.'
A nurse working at an HMO was killed Tuesday morning in a suspected arson attack in her workplace in the city of Holon.

Three others were also evacuated to hospital after inhaling smoke.

According to suspicion, a man walked into the HMO on Kaplan Street, poured an accelerant into the room where the nurse, 55-year-old Tovah Kararo, was sitting, and lit her on fire.

An empty 1-litre bottle and a lighter believed to have been used by the arsonist were found at the scene.

Vladimir, a patient present during the incident, recalled the harrowing scenes of the incident.

"I was waiting in line when I heard screaming. When I approached, I saw the woman burning, surrounded by people trying to put the fire out. It was horrible."

"I saw Karni (the clinic's physician) taking the extinguisher and jumping into the fire. I joined him and tried pouring water, but within seconds the smoke got so thick that we couldn't even see her," Vladimir said, sadly adding "Dr. Karni is a hero, really is. But we couldn't save her."




Fire fighters and Magen David Adom teams rushed to the scene to extinguish the fire and treat the badly burned victim.

However, upon arrival, Kararo—a dedicated nurse who worked for more than 25 years in the clinic—was found lifeless and pronounced dead by paramedics.

Police arrived at the scene of the incident shortly after and launched a manhunt which ended in the arrest of a 78-year-old suspect.

The suspect, seemingly a mentally ill holocaust survivor, is reported to have received a flue vaccination about a week ago and has since arrived at the clinic daily to complain about it and about the clinic's medical staff.

Petah Tikva Police Chief Superintendent Sigal Bar Tzvi commented on the incident shortly after it transpired.

"A man came for treatment this morning at the HMO. As we understand it, the man was dissatisfied with the treatment. Following an argument, he poured a flammable liquid he had brought with him ahead of time on the nurse treating him and set her on fire. Resuscitation efforts failed and she was unfortunately pronounced dead at the scene."

The suspect's attorney stated that "this is a tragic event. The elderly, who suffers from mental problems, claims that that he had no intention of hurting any of the staff, and did not spray the flammable liquid on the nurse. He claims that he wanted to set fire to some of the furniture to protest the pain he suffered and to finally get attention by the authorities."

The police have confirmed that the man has a history of mental problems.