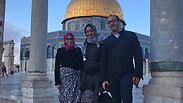 North African media delegation
Six North African bloggers and journalists have arrived in Israel as guests of the foreign ministry at the invitation of the Deputy Spokesman for Arab Media, Hassan Kaabiya.

This is the sixth such initiative undertaken to bring Arabic-language media representatives to Israel.

Until now, journalists from Morocco have come to Israel, but this is the first time journalists from Algeria and Tunisia have paid a visit.

Members of the delegation visited the Old City of Jerusalem and the Temple Mount Monday as part of their tour. Additionally, they visited Yad Vashem and are expected to tour the foreign ministry, the Supreme Court and the Knesset on Tuesday.

The original plan intended to see the hosting of eight bloggers. However, two pulled out at the last minute due to refusals by authorities to allow them to travel to Israel. The foreign ministry is also planning to introduce the delegation to Israeli journalists covering the Arab world.

The North African bloggers listed their first impressions of the country as appearing Western and free. "This is an opportunity to see the real Israel without the media acting as a middle man," said delegation members.

According to Kaabiya, the visit is important to potentially dispel possible myths or correct any false prepositions about Israel.

"It is of great importance to bring young people who were born with false ideas about Israel. The picture changes after these visits and their writing also changes the (international) opinion of Israel."