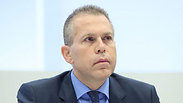 A Palestinian Authority government agency secretly operating in east Jerusalem was shut down on Tuesday on the order of Public Security Minister Gilad Erdan.
The PA agency, operating in the Beit Hanina neighborhood, was carrying out surveillance and registering of Arabs who sold land to Jews.
The Palestinian Authority used to have a bureau in Jerusalem that dealt with "map issues." The bureau would perform registration and monitoring of Palestinian lands in east Jerusalem and record changes carried out by Israel as "land theft" by the Israeli government.
The Jerusalem Police Department has recently discovered the bureau had renewed its activities under the guise of a "geographic consulting firm." It is funded by the PA and is in regular contact with PA security forces.
Police investigation also learned that the names of Arabs wishing to sell homes and land to Jews were given to security services in Ramallah. PA security services investigates any suspicion of forgery or intent to sell a home or land to Jews.
"The activities of this Palestinian Authority agency are part of a plan to undermine our sovereignty in Jerusalem and terrorize Arabs who sell real estate to Jews," said Erdan. "We will continue to act with determination to prevent any Palestinian government foothold in Jerusalem."