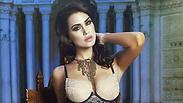 Shir Elmaliach, an Israeli lingerie model, was invited to model for the lingerie brand "femi9", which is known in Arab countries such as Syria, Egypt and Saudi Arabia.

The brand managers, who got her photos from her international agency, sent Elmaliach an invitation for a photo shoot.






Elmaliach had to unfortunately turn down the offer though, due to a slight problem though; the photo shoot is set to take place in the Lebanese audience.

Even though it is clear that she wouldn't be able to cross the countries' border due to both Israel and Lebanon considering each other enemy states, Elmaliach still would have had to turn the offer down in light of her busy schedule, working for five different fashion campaigns at the moment.