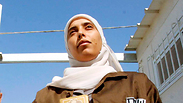 File photo
Photo: Dan Bality
A Jordanian woman has been charged in connection with a 2001 bombing of a Jerusalem pizza restaurant that killed 15 people and injured dozens of others.

The case against Ahlam Aref Ahmad Al-Tamimi was filed under seal in 2013 but announced publicly by the Justice Department on Tuesday.

The FBI has added Al-Tamimi, who served eight years in prison after pleading guilty in an Israeli court, to its list of Most Wanted Terrorists. US officials are also seeking to take her into custody, though it was not clear Tuesday that she would ever be brought to the US to stand trial.

The charge against Al-Tamimi stems from an August 9, 2001, bombing at a Sbarro restaurant that, in addition to killing 15 people, also injured roughly 122 others. Two of those killed were US nationals.

The criminal complaint unsealed Tuesday charged Al-Tamimi with conspiring to use a weapon of mass destruction outside the US against US nationals.

It accuses her of having agreed in the summer of 2001 to carry out attacks on behalf of the military wing of Hamas and having traveled with the restaurant suicide bomber to Jerusalem. Prosecutors say she instructed the bomber to detonate the explosive device, which was hidden in a guitar, in the area.

It wasn't immediately clear if she had a lawyer.

Mary McCord, the acting head of the Justice Department's National Security Division, called Al-Tamimi an "unrepentant terrorist."

"The charges unsealed today serve as a reminder that when terrorists target Americans anywhere in the world, we will never forget—and we will continue to seek to ensure that they are held accountable."