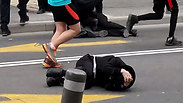 A Haredi man trying to disrupt the marathon
Photo: Amitai Sedes
Despite threats, Jerusalem Marathon goes off without mass Haredi demonstrations
Watch: After ultra-Orthodox Lithuanian groups plan to stage wide scale demontrations during Jerusalem Marathon over arrest of Haredi draft dodger, the race goes by without much disruption; family members and survivors or terrorist attacks take part to show their resilience of spirit.
More than 30,000 runners, including approximately 3,500 international athletes representing 65 countries, filled the streets of Jerusalem on Friday, clogging traffic, but giving the city a festive atmosphere on a cool, overcast morning. The event went off without much of a hitch, despite concerns that ultra-Orthodox groups might try to prevent a drama-free time.

The main event was won by 26-year-old Kenyan Shadrack Kipkogey, who finished the marathon in 2:17:36.

The Jerusalem Marathon begins (צילום: פלאש 90)




"It's not just a sporting event; it's a spiritual event," Mayor Nir Barkat told reporters ahead of the race Thursday. "We're in the holy city of Jerusalem, running where kings and prophets walked, where the Bible happened."

Haredi protestors at the Jerusalem Marathon (צילום: דיווחי מרתון ירושלים 2017)

Ultra-Orthodox Lithuanian Jewish groups had threatened to disrupt the event with mass demonstrations around the country to protest the arrest of a yeshiva student earlier in the week on charges of draft dodging, something that has been happening quite a bit lately.

Haredi man tries to disrupt marathon

For the most part, though, police prevented protesters from reaching the site. After Mayor Barkat threatened to fire his Lithuanian Deputy Mayor Haim Epstein if the threats of disrupting the marathon were to be carried out, word on the Haredi street was that the demonstrations would be low-key, as was indeed the case: Though runners did have to avoid hitting a Haredi man who lay down in their path, in general they were allowed to run free of political hurdles. At least one of these people even used the event to propose to his sweaty girlfriend.

Mazel Tov!

40 people were nevertheless detained in Jerusalem adjacent to the course of the marathon due to concerns that they might try to disrupt the race, while on the Jerusalem–Tel Aviv highway police stopped three buses of ultra-Orthodox Jews on similar suspicions. Following the marathon, Haredi groups entered into a physical altercation with the police, which was quickly dispersed.
Running resiliently
Among the participants were dozens of terrorist-act survivors. They were sponsored by OneFamily, an organization dealing with the loss, bereavement and growth of those affected by terrorism.

Joining thousands of marathon runners, OneFamily's group ran through the streets of Jerusalem, passing many spots where terrorist incidents have taken place. Their stated objective was to show the world that terrorism cannot break their spirits or the collective spirit of the Jewish nation in Israel.

At present, OneFamily facilitates over 3,550 bereaved families and families of injured or victims of trauma.

This year, OneFamily runners in the Jerusalem Marathon included Hadas Mizrahi, widow of Chief Superintendent Baruch Mizrahi who was killed in a shooting incident almost two years ago while traveling with his family to celebrate the Passover Seder.

Renana Meir, the daughter of Dafna Meir, who was murdered in Otniel, also took part in the event. Renana has just gotten engaged, and both she and her fiancé planned to run together in the Marathon.

Maya Rachimi, who was wounded in a terror attack in Jerusalem neighborhood of Armon Hanetziv in October 2015, joined in for the race.

Additionally, Naftali Moses, father of Avraham David Moses, who was murdered in the attack in Yeshivat Mercaz Harav, took part in the marathon.

"OneFamily promotes resilience, not only for those recovering from terrorist attacks but also across all of Israeli society," said OneFamily CEO Chantal Belzberg. "The streets of Jerusalem have seen too many tragedies. Running through these same streets with pride, not fear, is a powerful statement that terrorism won't succeed, and that we can overcome terror together."

Kobi Nachshoni, Omri Efraim & Andrew Friedman/TPS contributed to this report