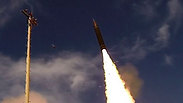 Arrow missile system
Photo: Ministry of Defense
Former head of the Arrow anti-ballistic missile project, Uzi Rubin, expressed his satisfaction with the system's performance over the weekend, after it successfully intercepted an incoming Syrian surface-to-air missile.

"I wasn't surprised when I heard about what happened, it was obvious the Arrow would work. There was no doubt. Despite preceding the rest of the world in this project, we had to deal with critics who claimed it wouldn't work."

While it was able to shoot down the obsolete projectile, the Arrow system is designed to intercept much larger and more significant missile threats.

The Israeli Air Force (IAF) is investigating whether or not the launch was entirely necessary given that the SA-5 (S-200) is a largely obsolete weapon that officials aren't even sure would have endangered an Israeli community. The question is whether the system's threat recognition mechanism simply sought to entirely avoid undue risk.
A look at the Arrow
The Arrow project began in 1988 as part of the Israeli contribution to US President Ronald Reagan's Strategic Defense Initiative—also known as the 'Star Wars' plan—to intercept ballistic missiles.
The US provided funding for the system's development and production.
The system went online and entered service in 2000 as the Arrow-1 and continued to be developed throughout the years, with the Arrow-3, which has the ability to intercept missiles in space, being the most updated version.
"We wrote the book in many areas of this field and there was simply no one to learn from," Rubin said. "But we had vision and belief from previous projects we had undertaken and one of the best teams to ever work for the Ministry of Defense and the entire security apparatus.
"The US help with funding helped us get over any domestic opposition to the project. One of the biggest achievements of the project was the development of the system's radar, which was seriously innovative for its time," explained Rubin.
In addition to the Arrow, the US was funding its own anti-ballistic missile system, the THAAD (Terminal High Altitude Area Defense), which is currently being deployed in South Korea, much to China's chagrin.
"At the time, it was very uncomfortable that our system was succeeding and theirs was encountering difficulty. After each of our tests, I would go to Washington to present the results and it would be particularly uncomfortable if they had recently logged unsuccessful tests.
"However, eventually the Arrow assisted in the development of THAAD and the system is extremely successful," said Rubin.
Almost 20 years passed since the Arrow entered service with the IAF before Israel confirmed operational deployment. "It is a happy event, but I wish we wouldn't have needed to use it, because this is a strategic system," said Rubin.
(Translated and edited by Fred Goldberg)