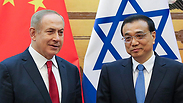 Prime Minister Benjamin Netanyahu with his Chinese counterpart, Li Keqiang
Photo: EPA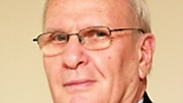 Israel should develop economic ties with China, but with open eyes
Op-ed: In his visit to Beijing this week, Prime Minister Netanyahu must use all his diplomatic skills to maneuver between three different and conflicting interests—the economic reality, China's hybrid economy and the US-China trade war on the horizon.
A quarter of a century ago, China and Israel established full diplomatic relations and I came to Beijing for the first time as part of the team negotiating a trade agreement, which was as basic, general and short as could be. Israeli officials, like the rest of the world, knew very little about the Chinese economy besides recognizing that if you sell one pair of socks to every Chinese person, you are doing well, very well.

This week, Prime Minister Benjamin Netanyahu is co-chairing the China-Israel Joint Committee on Innovation Cooperation. This is the flagship of the relationship. While Israel has led the world in investments in research and development in terms of the ratio to gross domestic product (GDP), in a few years China will surpass the United States, the leading country in absolute terms.

China embarked on ambitious plans like Made in China 2025, aimed at boosting the country's industrial prowess in information technology, intelligent manufacturing, new materials and biomedicine. For that purpose, 40 R&D centers will be built by 2025. Israel is, therefore, a natural partner for Chinese entities, which can employ large financial resources to buy foreign companies and the knowledge they produce.

China's interest in Israel has expanded beyond innovation. Chinese companies are building and operating the new additions to the ports of Haifa and Ashdod. There is a Chinese interest in railways and attempts to take control of some of the insurance companies. The acquisition of Tnuva is evidence of China's interest in what Israel can contribute to food security, a vital tenet of the Chinese regime.

In the visit, Netanyahu will have to use all his diplomatic skills to maneuver between three different and conflicting interests. The first one is the economic reality. China is moving fast to become the world's leading economy. Beyond being the largest single market, it has amassed huge financial resources available for foreign direct investments. China had embarked on two initiatives that are of political and economic interest for Israel. One is the Asian Infrastructure Investments Bank (AIIB), and the other is the One Belt, One Road (OBOR). Both are aimed at increasing China's political influence and increasing its share in the Euro-Asian markets, but they can also be of benefit to Israel and Israeli companies.

Israel, which is barred by Muslim member states from joining the Asian Development Bank, joined the same countries in the AIIB, and the credit for that goes to the Chinese leadership. Membership in the AIIB promises Israeli entities accessibility to projects financed by this bank. This is also the case with the OBOR, as it is known to those who follow China. It is the Chinese president's ambitious project, which may benefit from $50-billion investments. Israeli companies and other entities could compete in areas where Israel has a relative advantage, such as agriculture, especially in arid zones, water management, desalination and recycling, food production and technological greenhouses.

But then, PM Netanyahu should remember that China's economy is a hybrid. The Chinese companies, certainly the big ones, are state- or party-controlled with their activities following national strategic policies. The Chinese company building the new part of the Ashdod Port, close to the Israeli Navy base, is not totally independent like a French or British construction company. That reality requires Israel's governmental scrutiny and regulations in certain sensitive areas. Whatever mechanisms would be established, it should be clear that they apply to all states and aim at protecting national interests. Other states have established procedures for these, and Israel can learn from their experience.

Lastly, there is a US-China trade war in the horizon. It may be prevented, but until it is, Israel has to carefully watch the implications of dealing with China on its overall with the Trump administration. One example is the negotiations for a free-trade issue China and Israel have launched. It would be prudent for Israel to conduct them while watching the developments in the China-US arena. Coming on the heels of the visit to Washington, the visit to China this week assumes a significance beyond innovation.

Dr. Oded Eran is a veteran Israeli diplomat and a senior researcher at the Institute for National Security Studies.