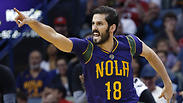 Fighting for a playoff spot, the Minnesota Timberwolves signed Israeli free agent forward Omri Casspi on Monday as a replacement for injured Serbian standout Nemanja Bjelica.

It's the third NBA team in a month and the fifth overall in the eight-year career of the 28-year-old former Maccabi Tel Aviv playmaker who was taken in the first round of the 2009 NBA Draft by the Sacramento Kings.

Casspi was traded from the Kings to New Orleans last month as part of the deal that brought DeMarcus Cousins to the Pelicans, but Casspi broke his right thumb after scoring 12 points in the first game with the Pelicans and was released two days later.

But his thumb has healed and the T-Wolves are in need of a replacement for Bjelica, who suffered a season-ending left foot injury last Thursday. The Belgrade-born standout averaged 6.2 points and 3.8 rebounds a game.

Casspi is averaging 6.1 points and 4.0 rebounds over 23 games with three teams this season and has career averages of 8.5 points and 4.2 rebounds over 486 career NBA games, including stints with Cleveland and Houston as well as the Kings and Pelicans.

At 28-41, the Timberwolves are five games behind Denver for the eighth and final playoff spot in the Western Conference with 13 games remaining.