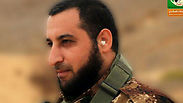 Israel was summarily blamed for the assassination of Hamas commander Mazan Fukha, but it wasn't the only one interested in his untimely demise. The Palestinian Authority, the Salafi movement and Hamas itself all had an interest in eliminating Fukha as well.

Israel is the main and immediate suspect. Mazan Fukha worked day and night from the Gaza Strip to plan and execute attacks against Israel by establishing and guiding military cells in the West Bank. He was one of the pillars of Hamas's "West Bank branch," which is headed by Salah al-Arouri and dedicated to carrying out attacks in Israel or against Israeli targets. The Shin Bet and Palestinian security forces have been hard at work in recent years in an effort to thwart these attacks and apprehend the members of these terror cells.

Fukha has in the past addressed reports about his role, along with other freed prisoners, at the "West Bank branch," which he says were leaked by the Israeli defense establishment.

"There is only one reason for these reports, which were leaked by the Israeli Shin Bet using Zionist newspapers—giving the Shin Bet an excuse to harm released prisoners in the future, whether they are in the West Bank, the Gaza Strip, or even abroad," he was quoted as saying. "From our experience in the resistance, it seems strange that a security organization releases such things, which are supposed to be secret, in order to imprison newly-released prisoners. That is why there is no truth to these reports and we treat them accordingly."

The general belief in the Gaza Strip is that Israel used this assassination to send a message to two groups. The first, other released prisoners expelled to Gaza who have returned to terror activity. The second, Hamas's new leadership, particularly new leader Yahiya Sinwar. The message being that no one in Gaza is safe from the long arm of Israel.

Hamas too had an interest in Fukha's demise. Hamas is known as an organization that does not shy away from harming those who do not follow the orders of its top command and appear to be too creative or too competitive—and it doesn't matter how senior they are.

A noted example is the assassination a year ago of Mahmoud Eshtewi, a senior commander in Hamas's military branch. Eshtewi was likely liquidated because of his harsh criticism against Yahya Sinwar. Another theory is that Eshtewi was an Israeli spy. In any case, it was Sinwar himself who ordered Eshtewi's killing.

It is possible that Fukha was also suspected of being a double agent in service of Israel and that Sinwar ordered him killed in a way that implicated Israel. Sinwar has no qualms about killing collaborators and has murdered more than ten of them himself.

What did the Salafi movement stand to gain from Fukha's death? Over the last few months, Hamas has arrested hundreds of Salafists affiliated with ISIS as part of the warming of ties between Gaza and Cairo and Hamas's desire to gain favor with Egypt. Salafists have also been arrested for firing rockets at Israel, something Hamas has paid a heavy price for in Israel's retaliatory strikes.

It's possible the Salafists decided to punish Hamas by assassinating one of its top commanders, particularly one who didn't have tight security like other senior Hamas officials.

The Palestinian Authority had more or less the same reasons as Israel to see Fukha six feet under. The PA may not have a presence in Gaza, but their security services have agents in the strip who were possibly the ones leading the cell that assassinated Fukha. However, the chances of that option are rather low compared to other options.

One final possibility is that Fukha was assassinated because of a personal feud that had nothing to do with his military activity. That option is rather unlikely because it appears the assassination was done quite professionally—he was shot at short range near his home by an assassin (or assassins) using a silenced weapon. His killers fired four bullets to his head and escaped. He was killed on the spot.