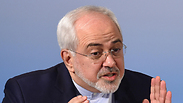 Iranian Foreign Minister
Photo: AFP
Iran has imposed sanctions on 15 American companies over their alleged support for Israel, terrorism and repression in the region.

A Foreign Ministry statement carried by the state-run IRNA news agency Sunday said the companies are barred from any agreements with Iranian firms and that former and current directors will not be eligible for visas.

The move is seen as a response to US sanctions placed on dozens of Iranian entities in February following an Iranian missile test. Iran's sanctions are unlikely to have much impact as none of the targeted US companies are known to do business in Iran.

The companies include Bent Tal, United Technologies Products. ITT Corporation, Raytheon, Re/Max Real Estate, Magnum Research Inc., Oshkosh Corporation, Kahr Arms and Elbit Systems.

A senior Iranian lawmaker meanwhile said Iran would consider a bill branding the US military and the CIA as terrorist groups if the US Congress passes a bill designating Iran's Revolutionary Guard a terrorist organization.

Such moves could heighten tensions in Iraq and Syria, where Iranian-backed forces and a US-led coalition are battling ISIS.

Allaeddin Boroujerdi, the head of parliament's national security and foreign policy committee, was quoted by state TV as saying the move to further sanction the Revolutionary Guard goes against the 2015 nuclear deal Iran reached with the United States and other world powers.