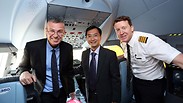 Cathay Pacific in Israel
Photo: Sivan Farag
The first Cathay Pacific flight from Hong Kong to Tel Aviv landed Sunday morning at Ben Gurion Airport. The company is using the environmentally-friendly 280-seat Airbus A350 for the first time in Israel, with 214 economy class, 28 premium economy and 38 business seats

A special departure ceremony for Flight CX676, the return journey to Hong Kong, took place later in the day. Hosted by Cathay Pacific Director Corporate Development and IT Paul Loo, the celebration event included the participation of Tourism Minister Yariv Levin and Transport Minister Yisrael Katz. Sagi Karni, Israel's Consul General in Hong Kong, also flew in on the first flight from Hong Kong to Tel Aviv to join the celebration.

Chinese tourism on the rise

Hoteliers adapt their offerings, from breakfast to flower colors, to accommodate the 69% boom in tourists from China. These visitors benefit the Israeli economy by spending 69% more than their European counterparts per day in the country.


Levin commented, "The Tourism Ministry has set as its target to bring new direct routes into Israel with incoming tourists… Cathay Pacific joins the wave of new airline companies operating in Israel. Just recently, Ryanair, Wizz Air, Hainan Airlines and Air India all announced the opening of new routes into Israel.

"The opening of this route will bring an additional increase in incoming tourism from China to Israel and the Far East, and will join the exceptional marketing efforts that we are implementing, efforts that have already led to a 25% increase in incoming tourism this year."

Cathay Pacific will operate four weekly flights from Tel Aviv, departing at 1:50pm on Sundays, Tuesdays, Thursdays and Saturdays and arriving at 5:10am the following day. The four flights from Hong Kong to Tel Aviv, departing at 1:00am on the same days, arrive at 7:40am. The flight from Tel Aviv is 10 hours 20 minutes long, while the flight from Hong Kong is 11 hours 40 minutes.

The plane boasts state-of-the-art features such as lie-flat seats, varied menu, WIFI, advanced entertainment system, panoramic windows, lights that change color in line with the flight's progress, personal HD screens and optimal cabin temperature to minimize fatigue.

Company representatives believe that the new route will significantly increase the numbers of tourists arriving from the Far East, as well as Israelis traveling to Hong Kong and beyond.