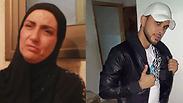 Israeli paramilitary police officers shot and killed a Palestinian woman who tried to attack them with scissors outside Jerusalem's walled Old City on Wednesday, police spokesmen said.
The woman was then identified as Siham Nimr, 49, from the Shuafat refugee camp in eastern Jerusalem.
She is the mother of Mustafa Nimr, who was accidentally killed by policemen in September 2016 after his cousin rammed through an east Jerusalem checkpoint while driving under the influence of drugs and alcohol. The officers mistook the two for terrorists, shooting the vehicle and critically wounding Mustafa, who was sitting in the passenger seat.
A source in the Shuafat refugee camp told Ynet that since her son was killed, Siham was heavily depressed and couldn't recover. The source estimated that she tried to stab the officers probably as revenge for her son's death.
The incident occurred at Damascus Gate, a heavily guarded entrance to the Old City and the scene of similar violence in the past.
"Police responded to a life-threatening situation and the female terrorist was shot dead at the scene," police spokesman Micky Rosenfeld said.
Luba Samri, a police spokeswoman, said the 49-year-old woman had "approached a group of officers, pulled out a knife and tried to stab them". She said the woman was a resident of East Jerusalem.
At least 241 Palestinians have been killed in Israel and the Palestinian Territories in a period of sporadic violence that began in October 2015 but has tapered off in recent months.
Israel says at least 161 were Palestinians who launched stabbing, shooting or ramming attacks using vehicles on Israelis before being killed by Israeli security forces. Others died during clashes and protests.