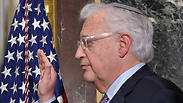 David Friedman being sworn in
Photo: AFP
WASHINGTON — US President Donald Trump gained his first ambassador Wednesday when attorney David Friedman was sworn in as America's envoy to Israel.

Vice President Mike Pence administered the oath of office to Friedman and hailed Trump's decision to nominate his former bankruptcy attorney for the sensitive diplomatic post as "one of the clearest signs" of the president's commitment to the state of Israel and the Jewish people.

"The president of the United States of America is a lifelong friend of Israel and the Jewish people and, under his leadership, if the world knows nothing else the world will know this: America stands with Israel," Pence said as Friedman's wife, Tammy, their five children and most of their grandchildren watched. Ron Dermer, Israel's ambassador to the US, also attended the ceremony.

Friedman, whose nomination faced resistance from Democrats and some Jewish groups, said he was "humbled" by the trust Trump had placed in him. He also noted his standing as the first of Trump's ambassador nominees to win Senate confirmation and be sworn in to office.

"Those facts speak volumes about how highly the Trump-Pence administration prioritizes our unbreakable bond with the State of Israel," Friedman said.

He said he recently resigned from the law firm in which he was a founding partner.

The Senate approved Friedman's nomination last week by a vote of 52-46, largely along party lines.

Republican lawmakers brushed aside complaints from Democrats that the combative Friedman lacked the temperament to represent the US with such a key Middle Eastern ally. The son of an Orthodox rabbi, Friedman has been a fervent supporter of Israeli settlements, an opponent of Palestinian statehood and a defender of Israel's government.

Friedman tried to use his confirmation hearing before the Senate Foreign Relations Committee in February to repair the damage from his past verbal attacks on individuals who hold opposing views on Israel. He assured senators that he regretted his choice of language and pledged to be "respectful and measured" if confirmed.

Friedman acknowledged to the committee that he deserved criticism for comments that targeted former President Barack Obama, former Secretary of State Hillary Clinton, liberal Jewish advocacy groups and others. Friedman had called one group, J Street, "worse than kapos" — a reference to Jews who helped the Nazis imprison other Jews during the Holocaust. He had also accused Obama of "anti-Semitism."

Republicans said Friedman's atonement satisfied them. But Democrats argued that his record of divisive statements couldn't be erased and would compromise his effectiveness as an ambassador.

All 11 Republicans and one Democrat on the committee supported Friedman's nomination. The panel's remaining nine Democrats opposed him.