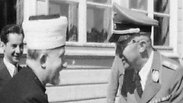 The archives of the National Library of Israel have revealed another document that attests to a connection between Nazi Germany and Mufti Hajj Amin al-Husseini.

The document in question is a letter of praise sent by head of the SS, Heinrich Himmler, to the Palestinian leader in the autumn of 1943 at the height of the extermination of Jews in Europe.

"To the Grand Mufti Amin al-Husseini. The National-Socialist movement of greater Germany has made its fight against world Jewry a guiding principle since its very beginning. For that reason it has been closely following the battle of freedom-seeking Arabs—and especially in Palestine—against the Jewish invaders," wrote the SS commander.

Himmler continued, saying, "The joint recognition of the enemy, and the joint battle against him are what creates the firm allegiance between Germany and freedom-seeking Muslims all over the world."

Himmler ended the letter with congratulations to the Mufti, saying, "In this spirit, I am happy to wish you on the first anniversary of the Balfour Declaration, warm wishes for the continuation of your battle until the big victory."

Al-Husseini, the Mufti of Jerusalem, was considered the main instigator of the 1920 riots and was sentenced in absentia by the British Mandate authorities to 15 years in prison.

However, he was granted a pardon within a short period of time, and was appointed a year later to the Mufti, the supreme authority on matters of religion.

He took an extreme line, rejected any cooperation with British Mandate authorities, objected to the establishment of a Jewish national home and rejected any possibility of reaching an agreement with the Jews.

After his exile from Palestine, he stayed in Iraq during the war with Nazi Germany.

The letter from Himmler was sent about two years after the meeting between the Mufti and Adolf Hitler in the midst of World War II, during the murder of millions of Jews in Eastern Europe.

According to a British archive revealed 50 years ago, the Mufti asked "to take the opportunity to thank the Fuehrer, who is popular with the entire Arab world, for the sympathy he has always shown to the Arab world, especially the Palestinians.

"The Arab states are convinced that Germany will win the war and that Arab interests will flourish. The Arabs are Germany's natural friends because they have the common enemies of Germany, especially the British, the Jews and the Communists, and for this reason they were willing to cooperate with Germany with all their heart."

The subject of the Mufti's connection with the Nazis was the background created in Israel last year following a speech made by Prime Minister Benjamin Netanyahu's in which he claimed that Hitler did not want to exterminate the Jews, but Al-Husseini convinced him.