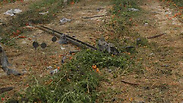 Greenhouse hit by rocket
Photo: Field Security
ISIS fires rocket from Sinai into southern Israel
Residents near the Gaza border region reported that they heard an explosion following a Code Red alert and after a rocket fell on a cherry tomato greenhouse in the Eshkol region; IDF confirms rocket fired from Sinai Peninsula; ISIS takes responsibility; there were no casualties.
A Code Red alert was sounded in the Eshkol region near the Gaza border on Monday morning, shortly before a rocket landed on an Israeli greenhouse.
While a number of residents in the area reported that they had heard an explosion, it was not immediately clear whether the rocket had landed inside Israeli territory.
Shortly after the siren was sounded at around 11:35am however, it emerged that the rocket had been launched from the Sinai Peninsula and landed inside Israeli territory.
There were also no reports of injuries.
"I heard an explosion and saw a mushroom of smoke," one resident told Ynet.
Later that day, ISIS took responsibility. Amaq, the terrorist organization's news agency, posted that it was responsible for firing a Grad rocket.
The greenhouse hit belonged to Chaim Cohen, who explained how the cherry tomatoes inside were destroyed, along with some of its structure.
"We were in the house preparing for the Seder night (the main feast on Passover). Suddenly there was a siren. We got everyone into the bomb shelter and there was a huge explosion.The whole house shook," he recalled.
"It was obvious that a rocket had fallen close to us and it caused extremely serious damage to the greenhouse. Metal was broken, the nylon was ripped, the growth was damaged. It is serious damage indeed," Cohen lamented.
"But it is seriously good luck that no one was hurt. We can handle damage, The main thing is that no one was harmed. We will have a Seder, the whole family, thank God. Unfortunately we have already become used to this situation. We will overcome it all and celebrate the festival as we planned."
Just a few hours earlier, the Taba Crossing between Israel and Egypt had been closed in an unprecedented move, due to an alert for a possible terrorist attack in Israel, forcing thousands of Israelis who had planned to vacation on the peninsula during Passover to change their plans.
Minister of Intelligence Yisrael Katz's office said that his decision was influenced by the severity and seriousness of the threat.
In a statement issued Friday morning, the Counter-Terrorism Bureau said that Katz had taken the decision in consultation with Minister of Defense Avigdor Lieberman. Taking immediate effect, the crossing was shut down for those travelling to the Sinai Peninsula until the end of Passover on April 18, providing that the security situation improves.
Despite the crossing's closure, however, Israelis currently in Egypt will be permitted to return home via Taba.
Security concerns in Egypt were heightened when at least 43 people were killed and more than 100 injured in bomb attacks on two Coptic churches on Palm Sunday, in the latest assault on a religious minority increasingly targeted by Islamist militants.
Responding to the attacks, Egypt's President Abdel Fattah el-Sisi declared a state of emergency.
(Translated and edited by Alexander J. Apfel and J. Herzog)