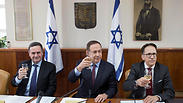 Benjamin Netanyahu
Photo: Reuters
Dark gray is passé, white is apparently not quite right, even greenish or purplish was once or twice tried—but now, it appears the prime minister is trying out a new tinge to his coif.

Prime Minister Benjamin Netanyahu came to work on Sunday with the darkest shade of hair as of yet; a shade that ranges from black to dark brown.

Even the meeting of Likud ministers he was meant to attend opened late because he was delayed with his makeup artist.

Anyone who has been following the prime minister's photographs in recent months has discovered that his hair has been constantly changing color. Hair designers with whom we spoke postulated that this was due to the constant change of coiffeurs in the Prime Minister's House; another hypothesis was that each artist has his own shade or, it might just be that they can't quite replicate their predecessors.

And of course, social media was not late to respond, inundating the World Wide Web with parodies about Netanyahu's hair color—one of them even went so far as to suggest taking all of Netanyahu's hair colors and turning them into a color palette.