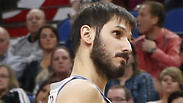 There is certainly a case for saying that this season has been the worst in the NBA career of Omri Casspi. Injuries, trades, difficulty finding a team and inconsistency with the Timberwolves are just some of Casspi's headlines this season.

According to a statistic by nba.com's John Schumann, Casspi's frustrating season is about to get an exclamation point.

After analyzing playoff data of all active players in the NBA, Schumann discovered that Casspi will now lead the NBA in one of the least flattering categories: Most games played without a playoff appearance.

With the Milwaukee Bucks clinching a playoff berth, Greg Monroe will make his first showing in a playoff game, thus relinquishing his title as the active player with the most games played without a playoff appearance.

Monroe's tally will end at 536 games played, while Casspi will take over with 496.