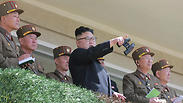 North Korea's vice foreign minister has said that "We will go to war" if the US chooses to provoke it, accusing the Trump administration of causing trouble and slamming the US for recent military moves in the area ahead of joint exercises with its southern neighbor.

Speaking with AP in Pyongyang on Friday, Vice Minister Han Song Ryol said the United States and President Donald Trump were "making trouble" in the region, citing Trump's tweets and the US for moving an aircraft carrier into the region and for participating in its largest-ever joint military exercises with South Korea.

North Korea denounced the United States on Friday for bringing "huge nuclear strategic assets" to the Korean peninsula as a US aircraft carrier group headed for the region amid concerns the North may conduct a sixth nuclear weapon test.

China issued a plea to Washington not to use preemptive military action against North Korea.

Han said that in the face of such actions, North Korea "will go to war if they choose." And it will continue developing its nuclear program and conduct its next nuclear test whenever its leaders see fit.

"We certainly will not keep our arms crossed in the face of a US preemptive strike," he added.

Trump tweeted on Tuesday that North Korea was "looking for trouble" and added that if China doesn't do its part to rein in Pyongyang's nuclear ambitions, the US can handle it.

Han responded that it is not his own country but the United States and President Donald Trump who are "making trouble," blaming them for the "vicious cycle" in the Korean Peninsula.

Tension has risen since the US Navy fired 59 Tomahawk missiles at a Syrian airfield last week in response to a deadly gas attack, raising concerns about US President Donald Trump's plans for North Korea, which has conducted missile and nuclear tests in defiance of UN and unilateral sanctions.

The United States has warned that its policy of "strategic patience" is over. US Vice President Mike Pence travels to South Korea on Sunday on a long-planned 10-day trip to Asia.

A spokesman for the North Korean Foreign Ministry's Institute for Disarmament and Peace issued a statement condemning the United States for the attack on Syria, while also calling for "peace by strength".

"The US introduces into the Korean peninsula, the world's biggest hotspot, huge nuclear strategic assets, seriously threatening peace and security of the peninsula and pushing the situation there to the brink of a war," the North's KCNA news agency said on Friday, citing the statement.

"This has created a dangerous situation in which a thermo-nuclear war may break out any moment on the peninsula and posed serious threat to the world peace and security, to say nothing of those in Northeast Asia," it said.

North Korea, still technically at war with the South after their 1950-53 conflict ended in a truce, not a treaty, has on occasion conducted missile or nuclear tests to coincide with big political events and often threatens the United States, South Korea and Japan.