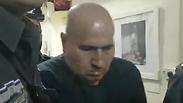 Jamil Tamimi
Photo: Liran Levi
The Jerusalem Magistrate's Court extended on Saturday the remand of Jamil Tamimi, 57, who murdered the 21-year-old British echange student Hannah Bladon in a stabbing attack on Friday.
Tamimi, who has a history of mental problems, is set to meet with the district psychiatrist for a mental evaluation.
When asked why he committed the murder, Tamimi claimed that he "didn't mean it," saying "I apologize" to Bladon's family.
During his questioning, Tamimi revealed that he planned the attack beforehand and had purchased the knife in the Old City. He also confessed that he carried out the attack hoping that the soldiers would shoot and kill him.
As part of his mental problems, Tamimi had already attempted to kill himself this year by swallowing a razor blade while in a psychiatric hospital, from which he was recently released, according to the Shin Bet.
In 2011, he was convicted of molesting his daughter.
Bladon's resuscitation attempts and Tamimi's arrest
During the deliberations on his remand, a police representative noted that the suspect got out of the psychiatric hostel in which he was staying prior to the attack.
Tamimi's attorney raised questions as to how he was allowed to leave, noting that Tamimi's behavior became more aggressive and hostile towards the hostel's residents. "Who should be held responsible?" the attorney asked.
The attorney added that the hostel called Tamimi's children to inform them that he left, to which they responded with indifference, saying they did not care and told the hostel to "do whatever you want with him."
According to the Shin Bet, this is not isolated incident in which mentally unwell Palestinians have carried out terrorist attacks in the hope of being killed by officers or soldiers.
"This is another incident of many in which a Palestinian suffering from mental health or personal issues has chosen to carry out an attack as a way out of his problems," the Shin Bet statement said.
(Translated & edited by Lior Mor)