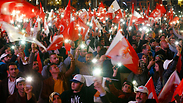 Erdoğan and referendum supporters rejoice
Photo: Reuters
Erdoğan warns critics to move on after Turkey narrowly votes in favor of referendum
Fireworks light up the sky above Istanbul after referendum pushed by Turkish President Erdoğan is barely approved, granting him sweeping powers; As opposition cries foul, Erdoğan tells critics their efforts are in vain; Referendum will bring on the most radical changes in Turkey's modern history.
On Sunday, voters decided to approve sweeping constitutional changes that will change the country's system of government from parliamentary to presidential, thus granting Turkish President Recep Tayyip Erdoğan even more authority. The changes comprise one of the most radical political reforms since the Turkish republic was established in 1923 and could see the 63-year-old president remain in power until 2029.

With 99 percent of the ballots already counted, the referendum won 51.3 percent of the votes, with 48.7 percent voting against it.

President Erdoğan briefly struck a conciliatory tone in a speech after following the announcement referendum results, saying there were no losers or winners in the race.

Erdoğan initially said after unofficial results showed the referendum narrowly passing that "no matter the color of their ballot, I thank every single individual of our nation who went to the ballot boxes and claiming their will."

But the appeasement was short-lived.

Addressing crowds outside his Istanbul residence minutes later, Erdoğan came out against critics whom he said "belittled" the result, telling them their efforts would be "in vain."

Erdoğan also told supporters chanting for the death penalty to be reinstated that he would discuss the issue with other political leaders and may even seek a new referendum.



Among other changes, the amendments give the president the power to appoint ministers and government officials, to name half the members of the country's highest judicial body, to issue decrees and to declare states of emergency.

Following the voted, Turkey's parliamentary democracy is not only set to grant Erdoğan all-powerful presidential powers, it may see him in office until at least 2029. The new system will be the most radical change to the country's political structure in modern history.

The outcome will also shape Turkey's strained relations with the European Union. The NATO member state has curbed the flow of migrants—mainly refugees from war-torn in Syria or Iraq—into the bloc, but Erdoğan says he may review the deal following the vote.

In Turkey's three biggest cities—Istanbul, Izmir and the capital Ankara—the "No" camp appeared set to prevail narrowly, according to Turkish television stations.
Supporters and detractors in Turkey reacts to referendum results
Turkey's Prime Minister Binali Yıldırım has declared a victory based on unofficial results for backers of a referendum to greatly expand the powers of the country's president.
Addressing thousands of flag-waving supporters on Sunday night, Yıldırım said the "unofficial' final result is 'yes'" for the constitutional referendum.
Yıldırım spoke on the balcony of his governing AK Party headquarters in Ankara, addressing a crowd of about 3,000 people who waved flags and chanted the name of the country's president, Recep Tayyip Erdogan.
Foreign Minister Mevlüt Çavuşoğlu told a group of supporters in his hometown of Antalya on Sunday: "As of now, there is a truly new Turkey. There will be stability and trust in the new Turkey."
The leader of Turkey's main nationalist party has declared victory for the referendum to expand the powers of the country's presidency.
Nationalist Action Party head Devlet Bahçeli said in a statement that Turkish voters chose of their free will to move the country from a parliamentary to a presidential system of government.
Bahçeli called the outcome "a very important success; a win that makes neglect and denial impossible."
He says Turkey rejected international "pressure, blackmail, imposition, force and threats by the whole world to put the 'no' choice forward."
The party, the fourth largest in parliament, backed President Erdoğan and the governing Justice and Development Party in their push to change Turkey's parliamentary system into a presidential one.
Residents in several neighbourhoods of Turkey's largest city Istanbul, however, were far from pleased. Upon learning the referendum results, many began to bang on pots and pans from their windows, in a traditional form of protest.
Residents protested in at least four districts of Istanbul, witnesses said. Video and pictures posted on social media showed small pockets of protesters taking to the streets in some areas.
Germany weighs in
As those in favor and against the referendum in Turkey continue to express their opinions, officials in Germany mostly voice a sigh of relief at tis completion. German Chancellor Angela Merkel's Chief of Staff Peter Altmaier said the close outcome for Turkey's constitutional referendum shows there is "lively political debate" in the country.

Altmaier told ARD television on Sunday: "I think what we can say this evening is that the result was closer than some people feared."

German Foreign Minister Sigmar Gabriel added his own opinion, saying that it is "good" that the referendum, which was so hard-fought in Turkey and in Germany, is now over.

Earlier in the day, a crowd chanted "Recep Tayyip Erdoğan" and applauded as the president shook hands and greeted people after voting in a school near his home in Istanbul. His staff handed out toys for children in the crowd.

"God willing I believe our people will decide to open the path to much more rapid development," Erdoğan said in the polling station after casting his vote. "I believe in my people's democratic common sense."

The opposition People's Republican Party (CHP) said a last-minute decision by the electoral board to accept unstamped ballots as valid votes put the vote in question. Following the vote, it demanded that 37 percent of the votes be recounted.

"We will pursue a legal battle. If the irregularities are not fixed, there will be a serious legitimacy discussion," CHP deputy chairman Bulent Tezcan said.
A divisive vote
The referendum has bitterly divided the nation. Erdoğan and his supporters say the changes are needed to amend the current constitution, written by generals following a 1980 military coup, confront the security and political challenges Turkey faces, and avoid the fragile coalition that have destabilized past governments.

"This is our opportunity to take back control of our country," said self-employed Bayram Seker, 42, after voting "Yes" in Istanbul.

"I don't think one-man rule is such a scary thing. Turkey has been ruled in the past by one man," he said, referring to modern Turkey's founder Mustafa Kemal Ataturk.

Opponents say it is a step toward greater authoritarianism in a country where some 47,000 people have been jailed pending trial and 120,000 sacked or suspended from their jobs in a crackdown following a failed coup last July, drawing criticism from Turkey's Western allies and human rights groups.

"I voted 'No' because I don't want this whole country and its legislative, executive and judiciary ruled by one man. This would not make Turkey stronger or better as they claim. This would weaken our democracy," said Hamit Yaz, 34, a ship's captain, after voting in Istanbul.

Relations between Turkey and Europe hit a low during the referendum campaign when EU countries, including Germany and the Netherlands, barred Turkish ministers from holding rallies in support of the changes. Erdoğan called the moves "Nazi acts" and said Turkey could reconsider ties with the European Union after many years of seeking EU membership.

On Saturday, Erdoğan held four rallies in Istanbul, urging supporters to turn out in large numbers and saying it "will be a turning point for Turkey's political history."

Erdoğan and the AK Party enjoyed a disproportionate share of media coverage in the buildup to the vote, overshadowing the secular main opposition CHP and the pro-Kurdish Peoples' Democratic Party (HDP).

CHP leader Kemal Kilicdaroglu has accused Erdoğan of seeking a "one-man regime," and said the proposed changes would put the country in danger.

Proponents of the reform argue that it would end the current "two-headed system" in which both the president and parliament are directly elected, a situation they argue could lead to deadlock. Until 2014, presidents were chosen by parliament.

The government says Turkey, faced with conflict to the south in Syria and Iraq, and a security threat from ISIS and PKK militants, needs strong and clear leadership to combat terrorism.
Erdoğan—a popular and polarizing figure
Rising from humble origins to take the helm of Turkey's government in 2003, Recep Tayyip Erdoğan quickly attracted a fervent following. But Erdoğan, who served as prime minister and then president, also became feared and hated by many who saw him as an increasingly autocratic leader seeking to erode the country's secular traditions by imposing his conservative, religious views.

Erdoğan served three consecutive terms as prime minister as head of his Islamic-rooted Justice and Development Party, before becoming Turkey's first directly elected president in 2014.

Supporters found in him a man who gave a voice to the working- and middle-class religious Turks who long had felt marginalized by the country's Western-leaning elite.

He was seen to have ushered in a period of stability and economic prosperity, building roads, schools, hospitals and airports in previously neglected areas.

"He's a real leadership figure because he is not a politician that comes from the outside. He comes from the street," Birol Akgun, an international relations expert at Ankara's Yildirim Beyazit University, said. "He has 40 years of political experience and is very strong in practical terms."

But with each election win, Erdoğan grew more powerful, and, his critics say, more authoritarian.

His election campaigns have been forceful and bitter, with Erdoğan lashing out at his opponents, accusing them of endangering the country and even supporting terrorism. After surviving an attempted coup last July, Erdoğan launched a wide-ranging crackdown on followers of his former ally, Islamic cleric Fethullah Gülen.

Erdoğan blames Gülen, who lives in the United States, and his supporters for plotting the coup, an allegation Gülen has denied.

The crackdown saw roughly 100,000 people lose their jobs, including judges, lawyers, teachers, journalists, military officers and police. More than 40,000 people have been arrested and jailed, including pro-Kurdish lawmakers.

Hundreds of non-governmental organizations and news outlets have been shut down, as have many businesses, from schools to fertility clinics.

Erdoğan has also blasted European countries, accusing authorities in the Netherlands and Germany of being Nazis for refusing to allow Turkish ministers to campaign for Sunday's referendum among expatriate voters.

Erdoğan's critics fear that approving the referendum will cement his grip on power within a system that has practically no room for checks and balances, opposition or dissent.

"One person will determine national security policies, according to the constitutional changes. Why one person? What if he makes a mistake? What if he is deceived? What if he is bought?" said Kemal Kılıçdaroğlu, head of the main opposition Republican People's Party, during a "no" rally in Ankara Saturday.

"Surrendering the Republic of Turkey to one person is a heavy sin. It's very heavy," Kılıçdaroğlu continued. "Can there be a state without rights and justice?"

As prime minister, Erdoğan garnered support from Turkey's Kurdish minority, which is estimated to make up about one-fifth of the country's population of 80 million people. He eased restrictions on the right to be educated in Kurdish and to give children Kurdish names.

He also oversaw a fragile cease-fire in the fight between the state and Kurdish rebels in the country's southeast, a conflict that has claimed an estimated 40,000 lives since 1984.

But the cease-fire collapsed in 2015, and about 2,000 people have died since then, including nearly 800 members of the security forces. With renewed fighting in the southeastern predominantly Kurdish areas, it is unclear whether Erdoğan still would have much support from the Kurdish community.

Erdoğan has promised the new presidential system will herald a period of stability and prosperity for Turkey, a country that has suffered several coups in the past few decades.

"He is a harsh leader in character," said Ankara academic Akgün, who used to head a pro-government NGO. "But in Turkey, a country that has so many problems, in societies like ours, the image of strong leadership is necessary to command both fear and respect and trust in society."