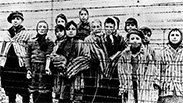 Holocaust victims
Photo: AP
Historian: Allies were aware of Jewish slaughter in 1942
Following examination of freshly declassified UN documents, which have not been seen for 70 years, Dan Plesch publishes findings positing that Western Allies knew of Hitler's extermination of Jews earlier than hitherto believed; says anti-Semites in State Department dismissed evidence.
The Western Allies were aware as early as 1942 that Adolf Hitler's systematic extermination of European Jewry was already well underway, according to an historian interviewed in the UK's The Independent.

In his newly published book 'Human Rights After Hitler,' Dan Plesch examines never-before-seen UN documents to prove that the most senior British officials were privy to the fact that Hitler had embarked upon a liquidation program that had already claimed the lives of 2 million Jews and that a further five million faced mortal danger.

Despite their foreknowledge, practically nothing was done by the Allies to rescue the Jews from their peril, reflecting a conscious policy decision as indicated in the freshly declassified documents.

Plesch, a professor at the Centre for International Studies and Diplomacy at SOAS University of London, presents documents showing that Viscount Cranborne, a minister in Prime Minister Winston Churchill's war cabinet, stated that Jews could not be considered to be a special case in the overall priorities of the British war effort and that the British Empire was already too saturated with refugees to grant sanctuary to Europe's Jews.

Moreover, the documents, which have not been seen for 70 years, also show that the Allies had "already begun drawing up war crimes charges based on witness testimony smuggled from the camps and from the resistance movements in various countries occupied by the Nazis," The Independent said.

Central to Pelsch's groundbreaking archival discoveries were documents indicting Hitler and his senior cohorts for war crimes dating from 1944.

"The major powers commented (on the mass murder of Jews) two-and-a-half years before it is generally assumed," Plesch told The Independent.

"It was assumed they learned this when they discovered the concentration camps, but they made this public comment in December 1942."

Additionally, Pelsch said that the mass collection of evidence on the Final Solution, which was used by President Franklin D. Roosevelt's envoy to the United Nations War Crimes Commission (UNWCC), Herbert Pell, was dismissed by anti-Semites in the US State Department.