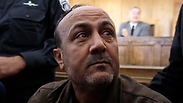 Marwan Barghouti
Photo: Reuters
Barghouti receives a cold shoulder from Palestinian leadership
Mahmoud Abbas is not interested in riling up the region before his scheduled meeting with Trump, and in Ramallah they are convinced that only personal political interests are behind the initiators of the prisoners' protest. Thus, only about half of the Fatah members joined the strike.
The prisoners' hunger strike has only been going on for one day, but it seems that ever since it started, all Fadwa Barghouti, Marwan Barghouti's wife and representative in the outside world, has been doing is trying to explain time and again that her husband's protest is not a whim intended to serve his personal interests.
According to Barghouti's wife, the other prisoners anointed him as the leader of the strike, and her attempt to justify his actions is in response to accusations raised in recent days regarding Barghouti's motives—not only the accusations publicly issued by Israel, but those proclaimed behind closed doors in Ramallah.
The fact is that Barghouti stands nearly alone when she is addressing the Palestinians, without any leader of repute by her side.
Comments backing up the strike were indeed received from the Palestinian leadership, but they sounded forced and somewhat general.
Barghouti knows this and therefore demands the strikers have outside support. "The success of the strike depends on the solidarity of the people with my husband," she said.
The strike had been planned for some time, and the scheduled date was not coincidental: It bagon on Palestinian Prisoners' Day in the West Bank and the Gaza Strip. This explosive combination could lead to clashes and friction with the security forces, but in practice, the rallies took place in the centers of Palestinian cities and ended in the same relative calm they had begun.
(Translated and edited by N. Elias)