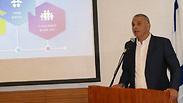 Moshe Kahlon at the press conference
Photo: Motti Kimchi
Finance Minister Moshe Kahlon said on Tuesday he plans to abolish customs duties on a number of household items as part of a drive to reduce the cost of living for Israelis.

Kahlon said that starting in the coming weeks there would no longer be a customs or purchase tax imposed on imported cellular devices, footwear and baby clothes.

The plan will cost an estimated 800 million shekels a year. It will not increase the budget deficit and instead will be covered by higher than expected annual tax income, the ministry said.

According to the plan, a working father and mother with children up to the age of one will receive 1.5 tax credits. Working parents with children aged 1 to 6 will receive 2.5 credits. In addition, day care centers will be subsidized for children in first and second grades. The subsidy will be at least NIS 150 per month per child, and its size will be determined according to the socio-economic status of the local authority.

Both men and women who earn up to NIS 5,000 will receive a work grant of NIS 495. This entails that the changes will take effect in the current fiscal year, but some would require legislative changes.

In an abnormal move, Kahlon's press conference was not coordinated with Prime Minister Benjamin Netanyahu.

The prime minister and the finance minister have been in disarray since the corporation crisis, and Netanyahu has not even been updated on the intention to convene a press conference.

Kahlon was asked why the prime minister had not been notified, and he replied, "We are constantly working to expand the employment circle, so I don't see anything here that needs to be updated. Nothing special happened here." He added, "It is impossible to know the date of the elections, and there is no connection to the elections. I put it out now so that conflicting reports would not confuse the public."

The government has been under pressure to lower the price of essentials like childcare, consumer goods and housing since 2011 when hundreds of thousands of Israelis took to the streets to protest the high cost of living.

Itay Blumenthal and Moran Azoulay contributed to this report.