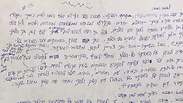 Goldin's letter to his parents
Lt. Hadar Goldin's parents to join IDF delegation to March of the Living
During a memorial ceremony, Dr. Leah and Prof. Simcha Goldin will read out a letter their son wrote to them when he visited the Auschwitz extermination camp as a teenager: 'I understand, thanks to you, what my country gives me, but mostly what I need to give of myself to the country.'
Dr. Leah and Prof. Simcha Goldin, the parents of fallen soldier Lt. Hadar Goldin, will join an IDF delegation led by Chief of Staff Gadi Eisenkot that will participate in the March of the Living in Poland.

Their son was killed during the 2014 Operation Protective Edge in Gaza and his body was captured by Hamas, which has since refused to return it to his family.

At the end of the annual march, in which participants silently make their way from Auschwitz to Birkenau, a memorial service will be held at the extermination camp, where Goldin's parents will read out a letter their son wrote to them when he visited the Nazi camp on a trip before joining the army.




Israeli and Jewish teenagers from all over the world arrive in Poland every year as part of an educational program to visit the Nazi concentration and extermination camps, Jewish ghettos and other notable sites to learn about the Holocaust.

In his emotional letter during his own trip, the young Hadar told his parents that after having witnessed the horrors perpetrated by the Nazis during the Holocaust, he realized that he must give of himself to the State of Israel and do "above and beyond."

"Mom and Dad, I'm sitting in the corner of a train car in Poland. I don't know how many children like me, and people similar and different to me, were transported in this car—but they were all Jews. Ripped away from their homes and their families, from their parents and children, without knowing where they were being sent or where they were going. But I want to tell you that thanks to you, I know where I'm going," he wrote.

"I'm going to the State of Israel. My country and ours. And I understand, thanks to you, what my country gives me, but mostly what I need to give of myself to the country. And when I look inwards, I know I have the strength to give above and beyond: Whether it's to represent my country and ours abroad, in Charleston and in Cambridge, at school and as part of the community.

"To be honorable, respectable, and clever. To be good where others are not! To be a decent human being, as you always say. With friends, at school, to succeed and be the best I can possibly be. To represent and defend my country in the IDF with a rifle, and before and after the army with a different kind of weapon. And always with the tools you've given me," he went on to write.

"Mom and dad, I wanted to say thank you. Dad, thank you for building me up and helping me building myself up, and for your constant guidance, wisdom and teaching. Mom! Thank you because, every time I lose something, myself, you help me find it by picking me up, helping me rise instead of fall. For your constant care, your ceaseless support and your endless prayers. Thank you for constantly learning from you two.

"Everything I see here in Poland takes me back to you, to my grandmothers, to Tzur and Ayelet and Chemi (his siblings), and the thought that leaves its mark in me is that I, and Tzur, and all of us, are the walking triumph of the Jewish people. This is a grand mission that I am willing to take upon myself. This is probably because, from the moment I was born, you've instilled this mission in me. This is thanks to you," he wrote.

"When Hadar wrote this letter, in a train car at the Auschwitz extermination camp, he knew, unlike the children who died in the Holocaust, that the Jewish people have a country that can defend itself, by itself," Goldin's parents said.

"His insights were the result of the education that we, his parents, the children of Holocaust survivors, gave him. Even then, Hadar knew exactly what his country did for him and what he needed to do for his country.

"In hindsight, we know that Hadar did indeed give it his all, as he promised he would. After almost three years in which Hadar has been held by Hamas in Gaza, we are disappointed every day anew to see this state, which rose from the ashes, fail to keep the values of the IDF and its promise to its soldiers to bring them back from the battlefield," the parents added.