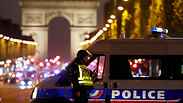 Police at the scene
Photo: Reuters
One policeman was killed and two others wounded in a shooting incident in central Paris on Thursday night, police and the interior ministry said.

The shooting, in which the assailant was also killed, took place on the Champs-Elysées shopping boulevard just days ahead of France's presidential election.


The French prosecutors' office said the counter-terrorism office had opened an inquiry.

Three police sources said, however, that the shooting could have been an attempt at an armed robbery.

"I came out of the Sephora shop and I was walking along the pavement where an Audi 80 was parked. A man got out and opened fire with a kalashnikov on a policeman," witness Chelloug, a kitchen assistant, told Reuters.

"The policeman fell down. I heard six shots, I was afraid. I have a two year-old girl and I thought I was going to die... He shot straight at the police officer."

Police authorities called on the public to avoid the area.

TV footage showed the Arc de Triomphe monument and top half of the Champs Elysées packed with police vans, lights flashing and heavily armed police shutting the area down after what was described by one journalist as a major exchange of fire near a Marks and Spencers store.