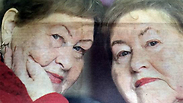 Twin sisters Tsesha and Amalia, who survived Auschwitz
Second-generation Holocaust survivors urged to share their families' stories
Ofira Azrieli, whose mother survived Auschwitz with her identical twin sister, gave up her career to commemorate the Holocaust from her own point of view. 'It's a memorial mission,' she says, calling on other children and grandchildren of survivors to do the same.
Ofira Azrieli, a second-generation Holocaust survivor, decided to give up her career and dedicate her life to the commemoration of the Nazi genocide of the Jews. She and her mother, Tsesha (Tzvia), meet with students and visit retirement homes and people's living rooms to discuss the Holocaust—each from her own point of view. In a Tel Aviv event held last Wednesday evening, they urged children and grandchildren of Holocaust survivors to share their families' stories too.

Tsesha and her sister Amalia were sent to Auschwitz concentration and extermination camp and were probably the only pair of identical twins who were not discovered by Josef Mengele. They have shared the story of their survival on stage in the past in a show called "Hide-and-Seek in Auschwitz."

"I took this upon myself as a highly important mission," says Tsesha's daughter, Ofira. "I left my previous career and I am fully focused on it, because I'm the second generation, and it's now my turn to tell the story. It's a memorial mission."

Wednesday's event, "I'm the Second Generation, It's Now My turn to Share Our Story," was attended by other second-generation Holocaust survivors who shared their families' stories: Author Nava Semel, daughter of former Knesset Member Yitzhak Artzi; Dr. Rafi Kishon, son of author and screenwriter Ephraim Kishon; Roni Dotan, who had brought from Germany an authentic wagon railroad car that had driven Jews to Auschwitz and placed it in the city of Netanya at his expense; Hana Rado, a social entrepreneur and vice chairwoman of ad agency McCann Tel Aviv; and Karin Weger, who presented a Holocaust commemoration kit for every family.

The event was opened by my father, Yedioth Ahronoth journalist Noah Klieger, an Auschwitz survivor. "Unfortunately, after there are no survivors left to tell the stories, I believe people will no longer remember the Holocaust," he said. "It's a shame that there is no law obligating the Education Ministry to send students on trips to Poland as part of the steps that will have to be taken when we survivors will no longer be here. Ofira's initiative is welcome because it calls on the second and third generation to keep talking."




At the end of his address, he offered a peek into a film documenting his personal story, "Boxing for Life," which was directed by Uri Burda and will be aired on Israeli television during Holocaust Remembrance Day.