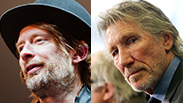 Roger Waters and Thom Yorke
Photo: Getty Images
Roger Waters and BDS target Radiohead over Israel concert
Various musicians and artists publish open letter on Holocaust Remembrance Day to encourage Radiohead to cancel show; Thurston Moore: 'It is a small sacrifice in respect to those who struggle in honorable opposition to state-sponsored fascism.'
Several artists and musicians signed an open letter calling on Thom Yorke and his bandmates in Radiohead to cancel their planned performance in Israel—or at least, "to think about it again."

The letter—which was disseminated on Holocaust Remembrance Day—was signed by English director Ken Loach, Thurston Moore of the band Sonic Youth, Tunde Adebimpe of the band TV on the Radio and Roger Waters, one of the most vocal proponents of the BDS movement.

"We understand you've been approached already by Palestinian campaigners. They've asked you to respect their call for a cultural boycott of Israel, and you've turned them down," the letter began.

"Since Radiohead campaigns for freedom for the Tibetans, we're wondering why you'd turn down a request to stand up for another people under foreign occupation. And since Radiohead fronted a gig for the 50th anniversary of the Universal Declaration of Human Rights, we're wondering why you'd ignore a call to stand against the denial of those rights when it comes to the Palestinians. By playing in Israel, you'll be playing in a state where, UN rapporteurs say, 'a system of apartheid has been imposed on the Palestinian people.'"

The signatories also addressed Dudu Tassa and his band, the Kuwaitis, who will be opening for Radiohead during their world tour.

"You may think that sharing the bill with Israeli musicians Dudu Tassa & the Kuwaitis, who play Jewish-Arabic music, will make everything OK. It won't, any more than 'mixed' performances in South Africa brought closer the end of the apartheid regime," it continued.

"Please do what artists did in South Africa's era of oppression: stay away, until apartheid is over."

Attached to the letter were separate statements from some signatories, including Thurston Moore, who said, "If any concerned, humanitarian-conscious activists employ a boycott to protest brutal injustice in their country and request artists and scholars to refrain from working and/or being promoted as supportive of the normalization of that country—then I choose NOT to cross that line and suggest to all to not be complicit. It is a small sacrifice in respect to those who struggle in honorable opposition to state-sponsored fascism.'"

Moore was scheduled to perform in Israel in April 2015, but chose to cancel his appearance for ideological reasons and came out in support of the BDS movement.

Roger Waters, a known pioneer in BDS's attempted assaults against cultural exchange with Israel, has signed many requests to cancel performances in the country, including those of the Chemical Brothers, Bon Jovi, Robbie Williams, Rolling Stones, Neil Young and others.