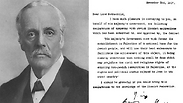 Balfour and the declaration
Palestinian leaders said on Tuesday Britain had rejected their request for an apology for a 1917 declaration that helped pave the way to the state of Israel, and they would pursue international court action unless London backtracked.

Palestinian President Mahmoud Abbas called for the apology in an address to the UN General Assembly in September, but Britain plans to hold celebrations along with Israeli officials to mark the Nov. 2 centenary of the Balfour Declaration.

British Prime Minister Theresa May has invited Israeli counterpart Benjamin Netanyahu to attend events commemorating the Balfour Declaration in November. Other commemorations are expected to take place in Israel during the year.

"The answer came in a written letter to the (Palestinian) Foreign Ministry that the apology is refused," Manuel Hassassian, the Palestinian ambassador to Britain, told Voice of Palestine Radio on Tuesday.

"It means the Queen and the government of Britain will not apologize to the Palestinian people and the celebration marking 100 years since the Balfour promise will be held on time."

There was no immediate comment from Britain's Foreign Office.

In the 1917 declaration, the British government said it viewed "with favour the establishment in Palestine of a national home for the Jewish people". It also said "…nothing shall be done which may prejudice the civil and religious rights of existing non-Jewish communities in Palestine…"

Palestine was under British rule when Foreign Secretary Arthur Balfour made the policy statement in a letter to Lord Rothschild, a leader of the British Jewish community.

Palestinians have long condemned the document as a promise by Britain to hand over land that it did not own.

Hassassian said that unless Britain apologized, cancelled planned celebrations and recognized the state of Palestine, the Palestinians would go ahead with plans for a lawsuit.

"This is the only condition upon which we can close this file permanently," he said.

Israel declared independence in 1948, at the end of British Mandatory rule and after the UN General Assembly voted in 1947 in favor of a plan, rejected by Palestinian representatives, to partition Palestine into an Arab state and a Jewish state.