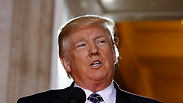 Trump expected to arrive in Israel with daughter and Jared Kushner
Delegation of 25 American officials are set to arrive in Israel on Thursday to lay the groundwork ahead of next month's unconfirmed visit to Israel by US President Donald Trump, who is expected to kick-start peace initiatives, and possibly address the Knesset.
A delegation of 25 American officials is set to arrive in Israel on Thursday to lay the groundwork ahead of next month's unconfirmed visit to Israel by US President Donald Trump.

The delegation will arrive for a first meeting at the Foreign Ministry to coordinate the details of the visit, after which they will hold meetings at the President's Residence and the Prime Minister's Office.

Delegation members will also tour and examine several locations which could be included in the president's itinerary upon his arrival.

Trump's planned visit to the Middle East will be part of his efforts to relaunch peace efforts in the region. The American president is reportedly considering holding a summit in Washington, inviting moderate Arab leaders, the Israelis and the Palestinians.

While the visit has not yet been officially confirmed, moves to bring it to fruition are already in their advanced stages.

The visit would carry particular significance for Israel since it would make it among the first on Trump's destination list since entering the White House. Moreover, it could also be the first state he visits in a wider tour of the Middle East.

He is expected to arrive with his daughter Ivanka and her husband Jared Kushner, but question marks remain over whether he will be joined by First Lady Melania Trump.

Trump is scheduled to participate in a NATO summit in Brussels on May 25, making it likely that his visit to Israel will take place shortly before or thereafter.

However, the estimated time for Trump's visit coincides with two key dates in Israel which could affect the visit and potentially mean that it will be held off until June. The first date is May 24, on which Israel will celebrate Jerusalem Day marking the 50th year since the city's reunification in the 1967 Six-Day War.

The second date which could lead to its postponement is the festival of Shavuot, which falls on May 31.

The definition of the occasion—state or work—will bear significance on its character, with the former meaning that President Reuven Rivlin will be the official host, and the latter meaning that Prime Minister Netanyahu will host Trump. In the event that President Trump does ask to address the Knesset, the visit will have to be defined as a state visit.

Moreover, while a state visit would require that Trump take a tour of Yad Vashem, Israel's Holocaust memorial museum in Jerusalem, it is likely that he will be asked to visit the museum regardless of how it is defined.