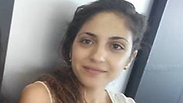 Lt. Shir Hajaj
Photo courtesy of the family
'The world's been wiped out': The first Memorial Day for a newly bereaved family
Shir Hajaj was one of four cadets killed in a truck-ramming attack in Jerusalem in January. In the months since her death, Ynet accompanied the Hajaj family and friends of Shir's as they processed and dealt with the murder of their loved one.
"Shiri, talk to me urgently," "Speak to me, my angel." These were the last text messages written by Merav Hajaj to her daughter, Lt. Shir Hajaj. They were never answered, as Shir, along with Lt. Yael Yakutiel, and 2nd Lts. Shira Tzur and Erez Orbach, was killed by a Palestinian truck driver who deliberately rammed into pedestrians on the Armon Hanatziv promenade overlooking the Old City of Jerusalem in January this year. In recent months, Ynet has accompanied the Hajaj family and Shir's friends in their grieving, as they prepared for their first Memorial Day as a bereaved family.
Shir, 22, was the eldest of four sisters, the daughter of a well-known family in the West Bank settlement of Ma'aleh Adumim. After her mother Merav heard in the media about the attack at Armon Hanatziv, she did not assume it would change her life forever.
"She was a flower; she was the apple of my eye, that girl," said Merav Hajaj through tears a few hours after the attack, to those who came to offer her some semblance of comfort. "We expected great things for her, because of her determination and her persistence. There aren't kids children like that today, there just aren't."
Shir's father Herzl added: "She was a talented, intelligent and beloved girl. She was an outstanding student who helped me personally in all sorts of crises that we experienced as a family. I still can't believe it."
Running in Shir's memory
At Shir's tombstone unveiling, Lt. Liron Talker, who was Shir's commander and who was also injured in the attack, brought with her a 5-km running program that Shir had planned to complete. Her parents shared that Shir had written in her diary about her training. "Though it was not of my own initiative, but part of my unit's training, the important thing is that it happened, and I am working toward a five-kilometer run," wrote Shir.

As a result, Shir's parents and friends decided to run in her stead and were among the 40,000 runners who participated in the Tel Aviv marathon this year. "We will do what she did not do," said her cousin Hila-Rachel Evron Cohen before the race. "I formed a group of friends and family and printed special shirts for those participating in the run that Shir really wanted to do but did not get a chance to."

Nearly four months have passed since the attack, but for the Hajaj family, the world has stopped. "The world's been wiped out," says her father. "As far as I'm concerned, she wasn't a flower, but an entire floral bouquet that lit up every room she entered. Every day I think about her; every little thing I see immediately reminds me of her. Sometimes I really want to text, but then I realize there's no one to text."
'She was my other half'
"I still haven't dreamt about her, though I really want to," says Merav. "I keep asking you to give me a sign that she's here, I still can't really understand that she's not with us anymore."


Among other things, the parents discovered that Shir had been keeping newspaper clippings with reports of attacks. Lior Azoulay, Shir's best friend, says that every year Shir would watch memorial films about fallen IDF soldiers and be filled with sadness. "Only this year, she's the one in the movie," she says tearfully. "She was my other half."
At the time of the attack, her best friend Lior was on a trip to South America and was at a place without cellular reception, not knowing what was happening in Israel. "When I got back from the trek and turned on my phone, I saw the WhatsApp messages and my eyes went dark. I knew immediately that I would be returning to Israel, but then I spoke to Shir's mother, Merav, and she asked me not to come back, but to finish the trip for the both of us, for me and for Shir."
Lt. Shir Hajaj is buried at the military section on Mount Herzl.
(Translated and edited by Gahl Becker)