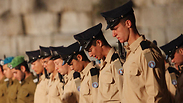 Soldiers pay respects to their fallen brothers in arms
Photo: Gil Yohanan
Ceremony at Western Wall commemorates fallen IDF soldiers and terror victims
As the nation observes a one-minute silence in tribute, Israel's leaders and soldiers gather at the Western Wall to pay homage to those who forfeited their lives for the country's freedom, and those whose memory symbolizes its people's continued struggle.
Israeli leaders, state dignitaries, generals and IDF soldiers bowed their heads at the Western Wall for a minute's silence on Sunday evening as a memorial siren blared across the country to commemorate Israel's fallen soldiers and victims of terror.
The one-minute siren for Memorial Day for the Fallen Soldiers of Israel and Victims of Terrorism was sounded at 8pm and was followed by the main ceremony at the Western Wall Plaza, during which the president and the IDF chief lit candles in memory of the fallen.
President Reuven Rivlin delivered the first speech after the siren. Rather than addressing the dignitaries present acknowledged the mothers and fathers, wives and husbands, brothers and sisters, sons and daughters, grandmothers and grandfathers and citizens of Israel.
"By this Wall of tears and of hopes, this evening, fifty years after the liberation of Jerusalem, we remember: our liberty is sacred, both sacred and hard," he began. "We know that there is a price to be paid for our existence here, for our liberty. There is a price, and we, in awe and terror, are willing to pay that price."
Addressing the bereaved families, Rivlin said that they were paying that price, which was paid in blood, before stating that ensuring the safety and security of Israel and its citizens, along with that of its soldiers, was the country's first priority.
"We must be more than prepared. More than exceptional. We must constantly examine ourselves; always be standing ready, always be one step ahead; always be engaged, not just in preventing the next war, but in preventing all the coming wars – using every tool and every channel at our disposal," he continued.
"For this, the IDF must be completely dedicated to the tasks before it. The IDF is all of us: it defends us, we defend it. Our defense and the defense of the IDF – its official national status – is defense of the most fundamental foundations of our national home. We must always remember: together we fall, and together we stand."
Without mentioning the names of soldiers who had yet to be returned to Israel from the battlefield—notably Hadar Goldin and Oron Shaul—Rivlin concluded his remarks by acknowledging that the national mission of securing their return had not been accomplished.
"Our commitment to those boys remains firm. And, together, this evening, we send our prayers for a full recovery to all the injured as they struggle day by day," he said.
IDF Chief of Staff Gadi Eisenkot then took to the podium to deliver his remarks, telling his audience that "An entire nation bears the memory of its loved ones with sadness and pride, appreciates the contribution of its fallen heroes, and bows its head."
He praised Israel's fallen soldiers, who he said carried out their missions out of a sense of personal and national commitment to Israel's civilians, heaping praise on their ability to act "resourcefully, with level-headedness, and with great courage."
On this occasion, in this historic and important place in the capital city of Jerusalem, here on this plaza, Eisenkot continued, "reverberates the joy and sorrow and the voices of war and victory. Here, we are bound together: one army—one oath—one mission.
"As the fallen have done in their oaths and like what the best of our sons and daughters do every year in one of the most defining moments of their lives—we also are required to raise our heads and look forward."
At 9:15pm, the "Songs in Their Memory" began at the Knesset in Jerusalem, with the president, the prime minister, the Knesset speaker, the defense minister, Police Commissioner Roni Alsheikh and Deputy IDF Chief Yair Golan in attendance.
On Monday, Memorial Day, a two-minute siren will be sounded at 11am in memory of the fallen. It will be followed by a state memorial service at the Mount Herzl cemetery, with the president, the prime minister and the IDF chief of staff in attendance. At the same time, a state memorial service will also be held at the Kiryat Shaul cemetery in Tel Aviv, which will be attended by the defense minister.
A memorial service for terror victims will be held on Mount Herzl at 1pm.
The Memorial Day events will end at 8pm in a torch-light ceremony on Mount Herzl that would also mark the beginning of Independence Day celebrations.