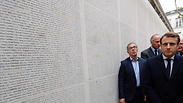 Macron at the memorial
Photo: Reuters
Macron visits the Holocaust Memorial in Paris, Le Pen a monument in Marseille
The centrist presidential candidate walks past panels bearing the names of tens of thousands of French Jews deported to their death in Nazi camps while his right-wing opponent lays a spray of flowers in memory of Jews rounded up by the Gestapo.
Amid worries about rising nationalism, French presidential candidate Emmanuel Macron visited the Holocaust Memorial in Paris on Sunday while his opponent Marine Le Pen lay a spray of flowers at a World War II monument in Marseille.

Excitement at his appearance mixed with tears of sorrowful remembrance for visitors as the centrist Macron walked past panels bearing the names of tens of thousands of French Jews deported to their death in Nazi camps. Holocaust survivors and children of its victims were among those present on Sunday.


Le Pen visited a memorial in memory of 30 Jewish women and children who were rounded up by the Gestapo in 1943.

Macron also looked at documentation showing the collaboration by French authorities with the Nazis.

It's the second time in three days that Macron is visiting a site tied to France's wartime history. On Friday, Macron walked slowly through the site of the deadliest massacre in Nazi-occupied France, the village of Oradour-sur-Glane in western France. The town is today a phantom village, with burned-out cars and abandoned buildings left as testimony to its history.

On June 10, 1944, four days after the Allied D-Day landings in Normandy, an SS armored division herded villagers into barns and a church, blocked the doors, and set Oradour-sur-Glane ablaze. A total of 642 men, women and children died.

Only six people survived.

Macron is seeking to remind voters of the anti-Semitic past of his rival Marine Le Pen's far-right National Front. In comments to local newspapers published Friday, he said, "We don't want to forget that from here, from Oradour, comes our Republican pride, the National Council of the Resistance that built our (fundamental) balances, our strength and the European project. That is, everything Marine Le Pen wants to destroy."

Le Pen prompted an outcry earlier this month by denying that the French state was responsible for rounding up French Jews during World War II in a reference to the Vel d'Hiv, the Paris stadium where thousands of Jews were transferred before being sent to Nazi death camps.

Le Pen has sought to purge the FN of the anti-Semitism that became its trademark under her father, co-founder Jean-Marie Le Pen—who made the second round in 2002 against the conservative eventual winner Jacques Chirac.

He had repeatedly called the Nazi gas chambers a "detail" of history, and she booted him out of the party in 2015.