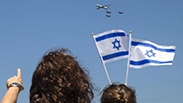 We must not let the polarization industry win
Photo: AFP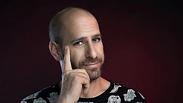 Hanoch Daum
Photo: Gabriel Baharalia
Don't believe those who defame this country. Don't let their gloomy prophecies deceive you.

An absolute majority of settlers are strongly against any kind of violence, but all you see is the tiny nasty minority that throws stones. An absolute majority of leftists—yes, even those who live in slandered Tel Aviv—are people who love Israel, real patriots who are concerned about its future.

Tel Aviv is a wonderful Hebrew city, a city as beautiful as many European cities, and the loud attempt to brand it as a piece of detachment and espresso is idiotic and offensive. The leftists are liberal exemplary citizens who seek good, even if most of the noise is made by a loud, post-Zionist minority looking for clicks on the Haaretz website.

Most Haredim understand that what took place in the past won't go on. Some of them, people like Yehuda Meshi Zahav, proudly send their children to the army, others go out to work, and there are those who are still afraid, but deep in their hearts they are hoping and looking for ways to integrate. It's taking them time, but they understand that this is the direction. Only a minority of Haredim block roads and insult girls and curse soldiers. A loud minority, which is receiving a lot of media coverage.

And the Arabs you meet in your day-to-day life, those who I meet just like that, hanging out at a Jerusalem mall like me, do they have anything to do with Knesset Member Hanin Zoabi? Do they want anything apart from a quiet life and good neighborly relations?

And for every corrupt mayor, there are 100 who serve their city loyally, and for every Israeli who loses control on a plane, there are countless Israelis who volunteer in charity organizations and are working to improve the world.

We have a polarization industry going on here. On the margins of our society, there are people working to define themselves by denying the other. They use generalizations. They live off the rift. But we must not let them win. Let's take the advice of Rabbi Elazar, who said in the Talmud's Chullin tractate: "The world exists only on account of (the merit of) he who restrains himself in strife, for it is written: He hanges the earth upon nothing."

We would not have reached su

ch great achievements as a state without the distinguished people living here, Israelis who know how to rise above a crisis, people of vision and ethics. There are good people living in this country, rightists and leftists, religious and secular, who understand that this is a Jewish state but are strongly against coercion, politically pragmatic people, people who are capable of engaging in an argument but who don't stop loving, Israelis who are unwilling to despair, Israelis with optimism and patience and a deep understanding that we have more in common than what divides us, and that "her ways are pleasant ways, and all her paths are peace."

Happy Independence Day!