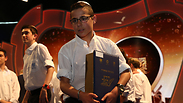 Sagiv Lugassi
Photo: Ohad Zwigenberg
Sagiv Lugassi of Ma'alot won the 59th edition of the World Bible Quiz for Jewish youth, held at Binyami Ha'uma in Jerusalem and hosted by recurring host Avshalom Kor on Tuesday.
Lugassi overcame Naomi Cohen of Safed, who led during most of the quiz stages. Lugassi made history with his victory as he is the first secular winner in the past 30 years, and even attends the ORT Maalot State School.
This year's quiz marked the 50th anniversary of the reunification of Jerusalem. It was held in the presence of Knesset Speaker Yuli Edelstein, Education Minister Naftali Bennett and Prime Minister Benjamin Netanyahu, who, like every year, asked the contestants a challenging question when the quiz ended.
In the finals, Lugassi won, overcoming contestants from the United States, Mexico, Canada, South Africa, Panama, Belgium and Brazil—and of course, from Israel. Cohen, 18, from Safed, studied at the Bnei Akiva Ulpan in Meron, and was also the winner of the National Bible Quiz for Youth. She was steady at the lead up to the final stage, when Lugassi made an impressive comeback. Ranking third was Masha Shpilovich from Belarus.
"There is no people in the world for whom Jerusalem is as holy and important as it is for the Jewish people, even though today there is a discussion in UNESCO that tries to deny this simple truth," the prime minister said before asking his question.
"We deny UNESCO and uphold our truth, which is the truth. Throughout Jewish history, Jerusalem was the heart of the nation. This year we celebrate the 50th anniversary of the liberation and unification of Jerusalem and the 120th anniversary of the First Zionist Congress, and therefore we present you with eight questions marking Zion and Jerusalem."