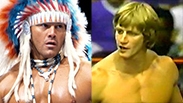 Legendary WCCW retired wrestling star Kevin Von Erich is planning to fight his final match in Israel, he told Ynet in a special exclusive interview on Sunday.

The wrestler, whose real name is Kevin Ross Adkisson, explained his reasons for choosing Israel for his final arena, despite retiring in 1995.

Kevin Von Erich in a special interview with Ynet

"I first came in 1985...and I just loved it here. The people were so warm. I just lost a brother a few months before that and maybe it was that that had an impact on me," he said. "I wanted my sons to see it so much that I...I think I just decide to do what I can to have one more match."

Testifying to his proclaimed love for Israel, Von Erich added, "I've turned down New York, I've turned down Tokyo and I'm not going to wrestle again."

Asked why he had chosen Israel rather than any other prestigious wrestling rings in the world, Von Eric pointed to his faith in Christianity.

"I love Israel. I'm a Christian. I love Jesus and my sons are the same way and this is the holy land," he replied.

Despite officially quitting the ring, Von Erich made special wrestling appearances on a number of occasions.

He is the last surviving son of wrestler Fritz Von Erich and had four brothers who wrestled, David, Kerry, Mike and Chris, as well as an older brother, Jack, who died in 1959.