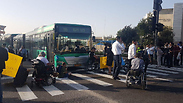 Road to Jerusalem opened after disabled demonstrators block access in protest of low gov't assistance
After more than an hour, the road to Jerusalem was cleared of disabled protestors, who aim to bring attention to low government assistance levels, which don't even meet minimum wage standards, despite promises by government officials.
About 20 disabled protestors blocked the entrance to the city of Jerusalem Monday evening, demanding increases in government living assistance and medication. The protestors were cleared after about an hour, following which the road was reopened for traffic.

The protest led to massive traffic jams in the area.

"The government is sending us to our deaths. There are disabled people in very bad condition and no one cares; not the finance minister nor the welfare minister. They would prefer that the disabled would just die. This needs to be the responsibility of the prime minister," said protestor Ofer Buchnik.

In response to the protest, Kobi Cohen, general manager of the Disabled People Action Organization, said, "We've been through this once before. In 2002, they raised assistance stipends by NIS 300. Then, they passed the Regulations Law and it froze assistance levels for 10 years. We've learned our lesson and we won't be making the same mistake twice."

The Finance Ministry has yet to summarize the outline for the increase in assistance, following a bill launched by Meretz MK Ilan Gilon, himself a disabled person to equalize disability assistance and minimum wage.

In recent months, disabled Israelis have been demonstrating to raise basic disability assistance in Israel. The current amount stands at less than NIS 2,400 a month, which is less than half the minimum wage (NIS 5,000).

Last month, Finance Minister Moshe Kahlon (Kulanu) announced that the disabled would receive an additional NIS 4 billion a year, in addition to the current NIS 9 billion allocated today.

Apparently, the committee appointed by the Ministry of Finance will recommend raising assistance allocation in the first stage to about NIS 3,000, and later, to raise it to roughly NIS 4,000.